Folks this is a tough one… 💔💔💔
I should have a massive PupCake waiting in my fridge, getting the pleading eyes every now and again because Stewie ALWAYS knew it was in there! I should have an extra big Bully stick and a Hedgie waiting for him , ALWAYS A HEDGIE!!! I didn't see any new ones at the Pet stores i went in to recently, but I think if there is ever a new Hedgie I've never seen before, I'm gonna get it to add to Stu's resting place. 🧡🦔🧡
And such a beatiful, magical place that his ashes have been placed! He has pictures of us (Mum, Dad, Chessie, Teddy & Aunty Anne) on his box, so he will ALWAYS have his Furmily  by his side! He is surrounded by all of his Spirit Furmily that have crossed over the Rainbow Bridge before him. He completes the circle between the 3 Douglas Firs, along with Shadow Munster, Keiko Freakin', OdieMan, Mojo Munchkin, Abbey Girl, Spitfire Spikey, Lily Pie in the Sky and now our Tripawdian Warrior Super Duper Truper Stu! Too many Fur Babies lost, but each and every one of them a Blessing!!! ✨💫 🌈💫✨
This picture is the day we put our boy to rest. He was sent off with a 48 Hedgie Salute 🫡🫡🫡🦔🦔🦔🫡🫡🫡 and the sun was shining for our boy! He was happy to be home and settled. I spend a lot of time down here with my Spirit Kids, it's very peaceful and I get to talk to them all. Miss Holly sent me a wind chime (you can see it hanging to the right of the picture) that i have hanging in this very special place and even though the wind may not be blowing, that chime will often whisper sweet love in my ear!
Super Duper Truper Stu didn't make the calendar 5th Year Ampuversary, I really thought he would. I even made up a special page on our calendar celebrating his 5 Years on 3! But I know that in ALL of our hearts and minds, he made it more than 5yrs, he hopped happily and lovingly for YEARS and then some!!! Such a strong boy, both in his earthly clothes and with his Spirit Wings!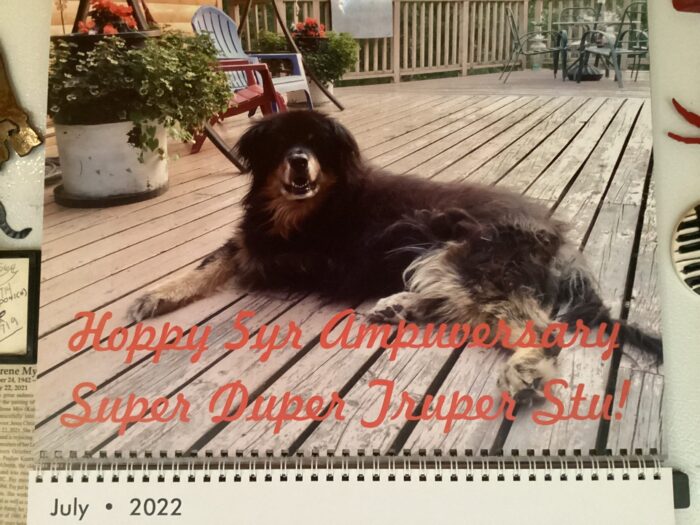 It's very sad to me and i feel a little bit lost, in the sense of working with Stewie's blog. I have no more Super Stu voice any more and it's a lot sadder than I expected it to be. I knew it was going to be hard, but i didn't know it was going to be this hard!!!
Please take a few minutes, maybe have a cuppa tea and watch this beautiful video of Super Stu's Memories in Motion. It's a video (of his videos) with all of his furmily over the past 5yrs years as a Tripawdian Warrior and believe me when i tell you, it wrenches at my heart, BIG TIME!!!
On behalf of our Super Duper Truper Stu and all of his Furmily, THANK YOU A MILLION TIMES OVER FOR ALWAYS BEING HERE! You have always been and will always be my very special Tripawdian Furmily!
Sending you all massive HedgeHugs and much love. Wishing you the very Hoppiest of Summers!
Petra, Paul, Chief Chester, Tender Teddy, TriPawd Warrior Spirit Super Stu and all of his Spirit Siblings in Heaven with him now!
🧡🧡🧡💫✨🦔🦔🦔✨💫🧡🧡🧡
***Edited to share the moments that Stewie has shown himself loud and clear to his furmily and friends…
SIGNS, SIGNS, EVERYWHERE THE SIGNS that STuButt has been sure to show us.
The funniest and most alarming is Stu's yellow bandana going missing! As you can see in the picture above of his magical resting place, he is wearing the yellow TriPawd's bandana… well a couple of daze ago it went missing, literally! Nowhere to be seen?!? I placed the smaller blue Bandana around Stu's Bear making sure I GET TO KEEP this one! Hehe i don't mind that Stu wanted his yellow one back, it looked absolutely smashing on him! But I was so worried that our Mama deer had come along and chewed it up and many got sick, so I asked for a sign that she and her babies were doing okay 🙏 🦌 Lo and Behold, not an hour later Mama deer showed up, ate some grass around StuBears rocks, snorted a few times at Chessie and then took off back into the woods.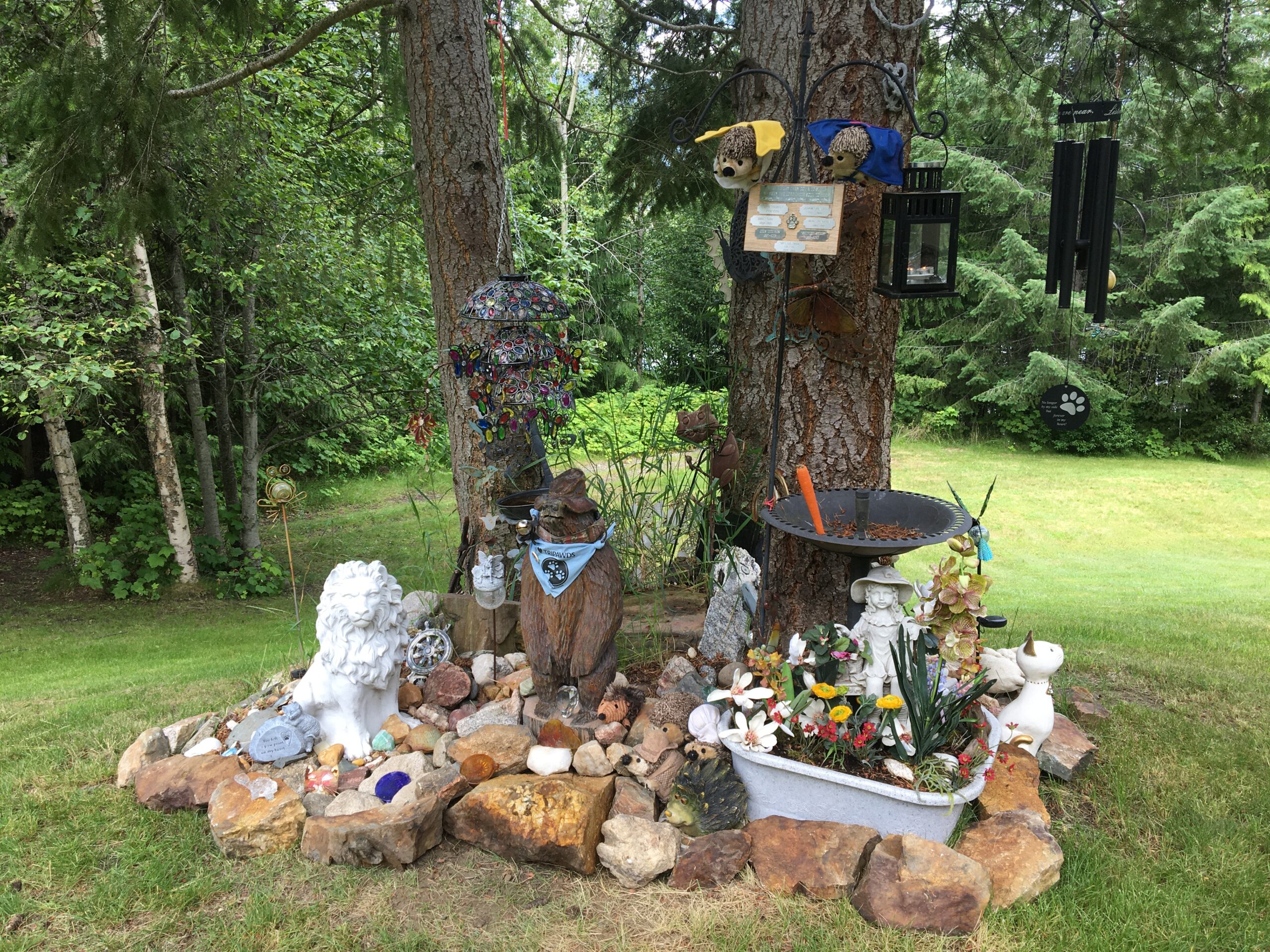 But that's another thing see, in the 15 years that we have lived in our piece of paradise, we have NEVER been given the gift of actually seeing Mamas' babies and this year we have had the pleasure of seeing them twice! Here's a picture of them hanging down with Stewie and his Spirit Furmily. I didn't see any of them wearing his yellow bandanna?!?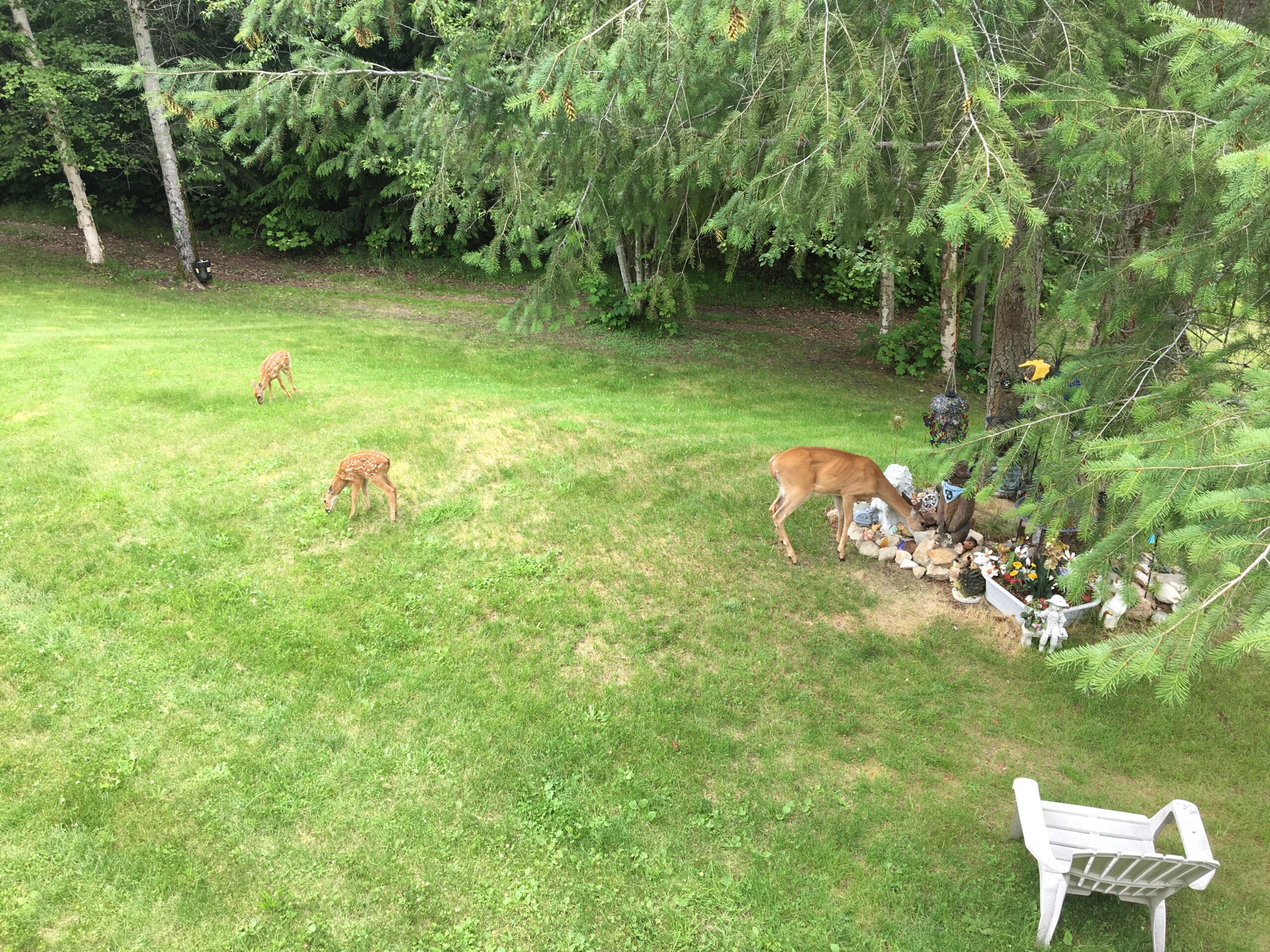 Three furmily members asked for a few of Stu's ashes, just to keep a little piece of this very strong boy with them furever. So i was on a mission to find 3 little pendant urns for them and although i had to wait for them all to come in from various places around the globe (Stewie teaching me patience again!)I found the most fitting ones for each of Stu's special peeps!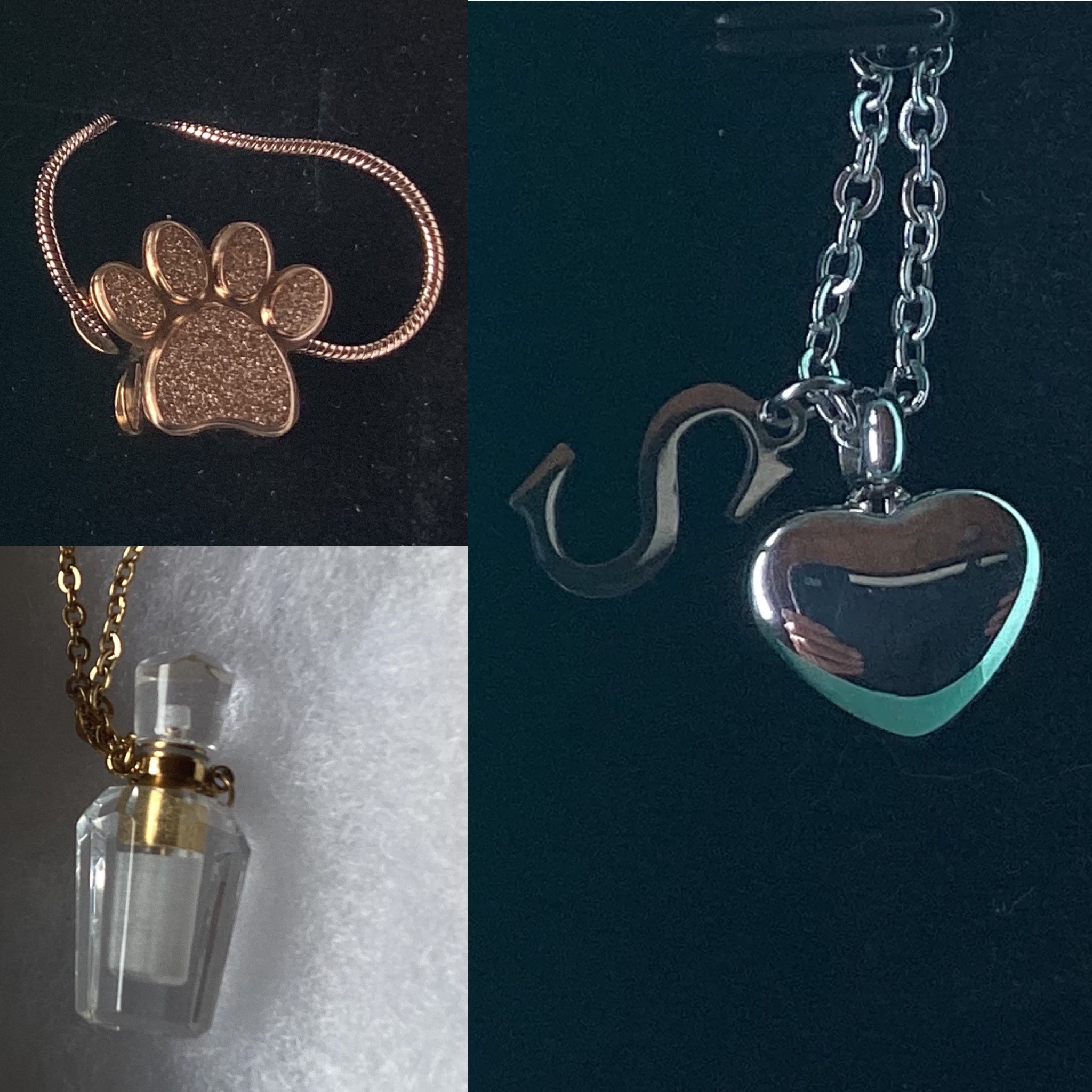 I wasn't going to get one for myself as i have him right close to the house, but when a favourite little boutique of mine called and said they finally found a pendant for me, ( I had asked for them to call me if they got any in as I had found a beautiful one that i sent of with Spikey, well over a year ago) I couldn't resist keeping this fourth one for myself. In this picture my Stewie pendant is hanging on the special treasure that Miss Holly sent us. STuButt and his Hedgies, such a treasure 💝
Then i went searching for 3 purrrfect cards to send off with these pendants and after browsing through my favourite SpiritWood store, i couldn't find what i was looking for, so i went and checked other stores around our little town and was disappointed at every turn! A little niggling inside my brain (Stewie;) said go back to SpiritWood for another look, they have such beautiful cards, i really couldn't go wrong. So back i went and within a couple of minutes of browsing through again, i found 3 (the last 3!!!) Hedgie cards… Of Course!!! How could i have missed them before, they are more than purrrfect!!! So because i couldn't get one for myself, i just took a picture and will treasure it furever!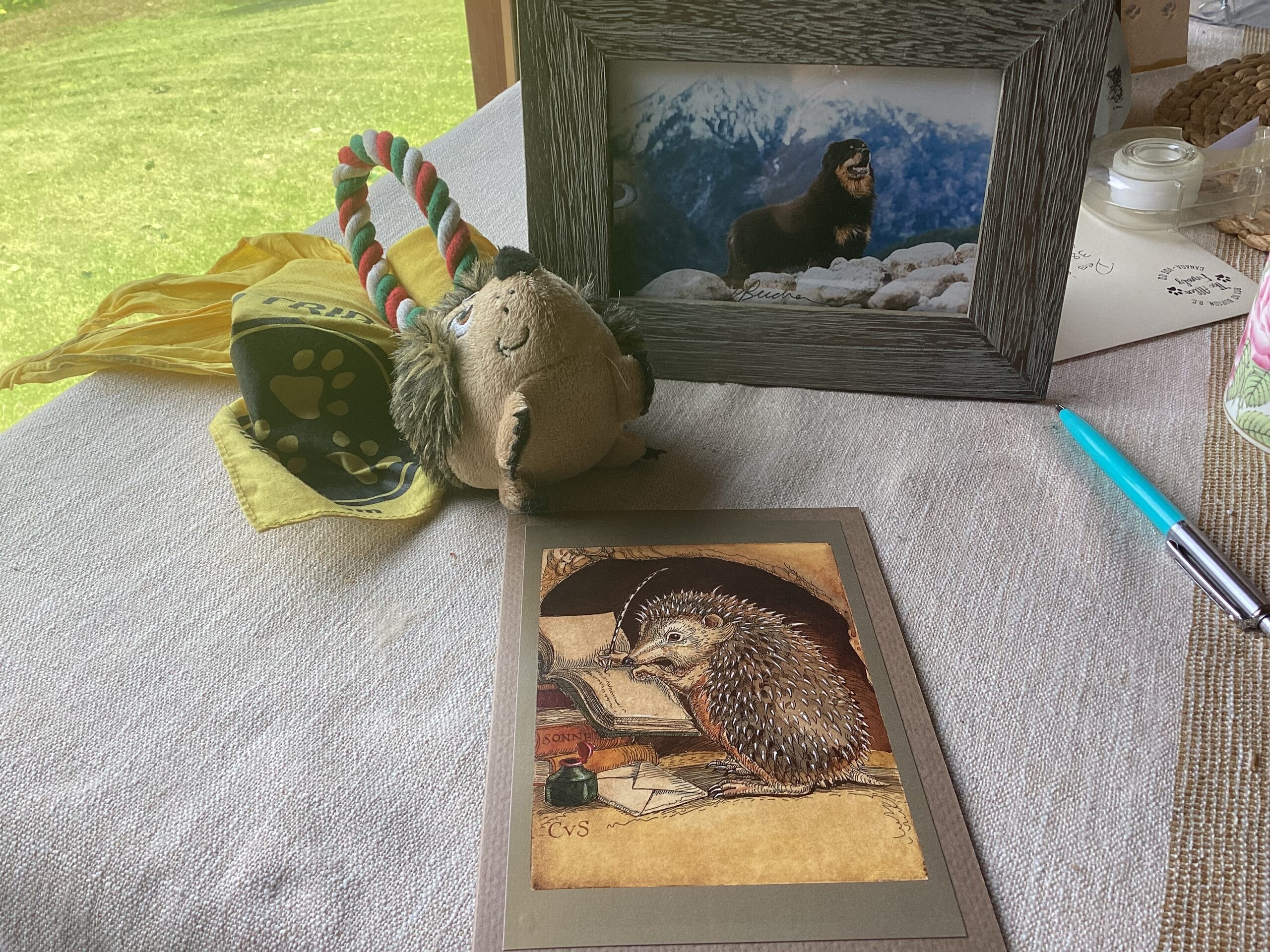 And his box, his treasured box… Because Stewie was to be placed under the Douglas fir trees, I knew that getting a traditional Urn for Stu wouldn't work. So on the road trip day that Super Stu showed himself through a Raven, i found this picture box in a thrift store that jumped out at me and said "this is it, it's the purrrfect size and pictures can be added to the top!" And a purrrfect size it was/is! So as you can see he is surrounded and loved by soooooo many good peeps and furmily!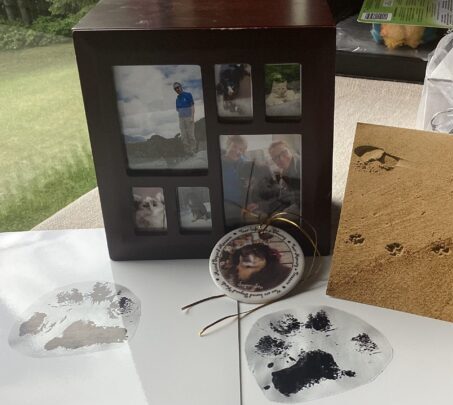 Speaking of Ravens, twice now i have had a feathery furmily of Ravens flying around the Douglas Firs… calling out to each other and really making a raucous of a noise, but I welcome them each time with a smile!!!
I have had a special plaque piece made to hang around Stewie's bear, but the magical  finishing touches are going to be done by Rene and so i sent off the piece to Miss Rene and her Tripawds Treasure Store and it made it to her in record time! Once again, as with his little pendant treasures sent out to his peeps, they were flown by Stewies Super Wings!!! I will share the final piece with you all when it is around StuBears neck. It's such a special piece 'cause it was his hooman aunty that has made the initial piece, with Miss Holly's help i was able to get a purrrfect paw print embedded into the plaque and now with the finishing touches by Miss Rene, it will be an amazing gift to honour my boy!!!
Oh you guys, i have rambled on again and again, there's just so many moments that i could share with you all, Stewie was some special boy!!! Thank you for listening to me and for supporting us all along the way.
With much love from the Allen Furmily
xxx