I have a HUGE shoutout of GRATITUDE for Miss Rene & her Tripawds Etsy store!!!
I have received many treasures from this store over the years and have never been disappointed. So I asked Miss Rene if she could make a plaque for our StuBear and without hesitation she said that she would be honoured to do so! The honour is truly all ours!!!
I had Stewie's Hooman Aunty make up a small black plaque and I was incredibly surprised to see that she had imprinted Stewie's paw print on it, it's purrrfect!!! I then sent this small plaque off to Rene, to have her add her TriPawdian Magic and turn it in to a Super Medal to hang around StuBear's neck.
It's  not just a Super Medal, it's a Super Duper Medal!🫡 🫡 🫡 His Paw Print is LITERALLY all over this!!!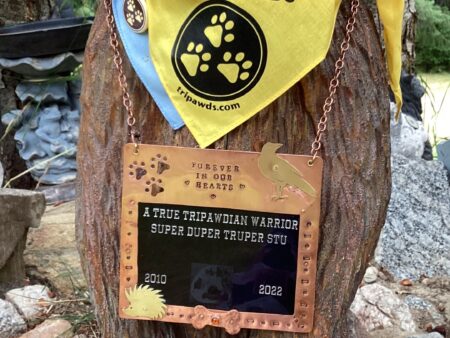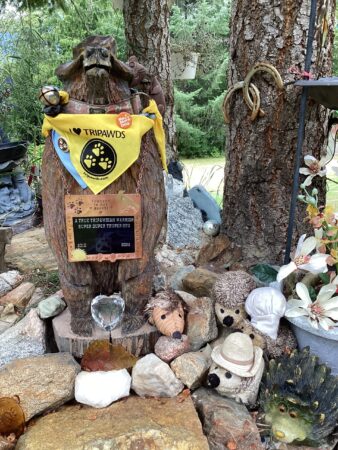 Isn't it amazing!!! Miss Rene, i really, really can not find the words to thank you for this Furever Treasure! Between you and Super Stu, the package arrived in purrrfect time… On August 10th, what would have been Super Duper Truper Stu's 5yr & 1 month Ampuversary!!!
AND Miss Rene made sure that StuBear had his Yellow Bandanna back on him!!! 😁 I still haven't found the magical Flying Bandanna! 🙄 THANK YOU for this fresh new replacement!! Super Spirit Stu is grinning from ear to ear!
Plus she made this beautiful heart pendant that now sits beautifully on Spitfire Spikeys' chain and another heart of love 💝
She has 3 paw prints on one side of the heart and Stu's name on the back. Yet another Furever Treasure!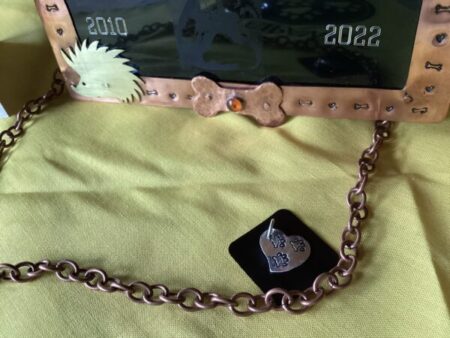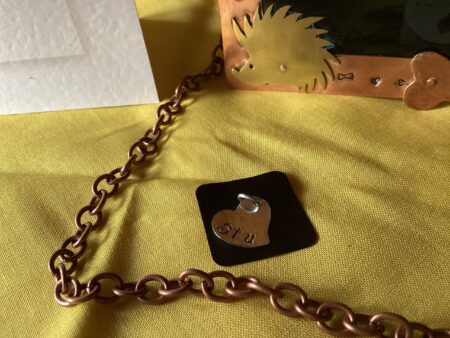 It was extra special because I was feeling very lost without my StuBear in the house. Paul was in the hospital recovering from major back surgery and the house just didn't feel like home, you know, safe & sound! Stewie was my extra set of ears and even on 3, he was a fierce protector! It was a beautiful gift to receive, knowing that it brought him that much closer to me in my time of need! So far Paul has made it through his surgery with A+ grades!!
I know he is out there visiting each and every one of you, giving you sloppy spirit kisses on your cheek. I know he visit's Mr Purrrkins Palace often and comes to them in beautiful Dragonfly's clothes and sometimes he brings a mate… such a beautiful gift to get these dragonfly kisses! 💝
Sending all you amazing Tripawds and your incredibly brave Pawrents a ton of love and hugs!
Live in the Moment… Be More Dawg and tell everypawdy that Tripawds D'Rule!!!
Petra, Bionic Paul, Chester Molester, Starving Ted, but most importantly a million Spirit Kisses from StuBear and his Spirit Siblings!
💕💚💜🧡🫡🫡🫡🦔🫂🦔💚💜🧡💕