Super Stu's 3 Month Ampuversary!
Hi folks, Stewie here again!!! I have just celebrated my 3 Month Ampuversary! That's 3 months and I'm still going strong!💪 I have made my Mum & Dad so very very Hoppy!🎉
I know I'm a lot stronger now 'cause I ran after my Dad on the UTV and i had a blast running like the wind! I haven't been able to do that in forever!😁 I stay strong by resting really good & I am back eating my 3 meals a day. Dad says that he has noticed me sleeping better lately with less moving around at night. I don't notice 'cause I'm sleeping to heavy! 😴 😴
Boy am I ever good at begging for treats now! Mum says that I can't ALWAYS HAVE TREATS! and I say WHY NOT?! She says that I have to lose wate?! (what is this wate thing?!🤔…) how can I lose something when I don't know what it is that I'm looking for? 👀😋
It's been a little quieter and cooler over the past month. But I've still had fun! I go to town every week with Mum and Dad and everybody I meet just loves me and I luuuuv the attention I get!🤗
Mum brought home 3 new hedgehogs for me over the last month! I Ruv the sound they make when I tickle them! But they run out of tickle, so Mum has to get me a new one 'cause I Ruv them that much!😁😁😁
It's a good thing that my coat is growing back in nicely and thank goodness for that! (there is no more scabbing left! No more itchy spots yay!👏) It went from really hot to really cool and we can start to see the snow coming down the mountain tops. It won't be long before it gets to us! 🍂🍁🏔☃️🎄
Mum says that she's worried for when winter comes 'cause she's worried about me slipping. But I just laugh and say no worries Mum. But truthfully I'm a little nervous, cause it can get pretty icy! I'll have to hop VERY CAREFULLY!😬
Last week I went for my fourth round of Carboplatin chemotherapy… it went super well! I have had no complications with my blood work either, so we get the full shabang each time. (Let's hope that keeps up for the next two sessions!) Dr. Laurie is very impressed with how long I can stay still! She must know that I do it for her 'cause I really like her! She may prod and poke, but she always says she's sorry and she gives me yummy treats after!🥓 I only have to get two more icky Chemo sessions done! 💉💉🤞
Me and my Mum & Dad and my favourite person Anne went on another boat-ride this week! I had so much fun! We even ate lunch on board! 👅 it was also very cool cause we saw a snow storm blow in. It rained on the lake and snowed on the mountain tops… 🏔 and the sun came out after! It was beautiful! We're very lucky this year 'cause the lake is staying up higher than usual for this time of year. Especially considering the very dry summer we had!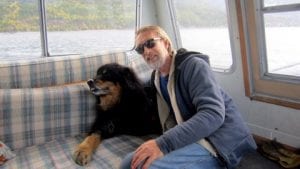 Then today, Mum & Dad took me into town for my blood work and then let me walk downtown with them (my old stomping grounds!) and some of my old friends were there and they were all super hoppy to see me! I'm glad we got a picture to celebrate my 3 Month Ampuversary!
I really am so very hoppy and all, but I'm sad too 'cause I've heard some crappy news this last week from Mum, about some of my friends from Tripawds that I have come to know. I know I haven't known many of you for long, but you hold a very special place in my heart! I say 💩 on this nasty stinking cancer!
So Until next time my friends… Stay strong and keep hopping hoppily along and most importantly, keep making your pawrents smile! 💞😊💖
Sloppy kisses from Stewie👅 🐕 🐾
& all the very best from his adoring pack,
Petra, Paul, & his 🐈 siblings, Mr. Spike, Chester Molester and Miss Lily 🐾🐾 🐾 💓
https://stewie2017.tripawds.com/