Our Boy is Home!!!
We are so relieved!
He was laying out on the grass with Dr's Laurie & Bill when we arrived at Nakusp Vets.
Surprisingly he was laying on his amputated side. Dr. Laurie said if that's what he wants to do, let him do it! He was very dopey, but he knew his Mum & Dad had arrived and was just staring at us as we came forward. Our sweet, sweet lovey!
We were given the rundown on what the next few days will involve. We don't have to worry about changing the dressing until Friday, so he can stay comfortably wrapped up. I was quite relieved about this as I didn't want to hurt him by messing around with dressings and such. Dr. Bill can do a complete change and get to see how everything is healing. We can give him as much food as he wants, keep it tasty and keep him interested. Lots of bed rest, mixed in with potty breaks to keep things moving and working his muscles.
Stewie has been prescribed Extra Strength Tylenol, Gabapentin and Meloxicam. I already had a weekly pill organizer that was put to good use, to get all of these medications into our boy, at the proper times! It was going to be a chore to say the least!
He is very weak, so until he builds his body up to Tripawds standards, we need to be beside him to offer support. We need to let him get up by himself, but be ready to hang on to his harness, as he is very floppy. I would be screaming bloody murder if I was in his shoes! Can you imagine all these expectations 24 hrs after having your leg chopped off! Bloody hell he is amazing!
When we stood up and told Stewie that it was time to go home, this mad, brave dog jumped up and ran to the truck, very wobbly mind you and Paul had to run to keep up! Bless his huge beautiful spirit! I drove in the back of the truck with our boy on the way home. I didn't have to tell him when we were coming around our corner, that we were almost home, he's been doing that trip long enough now that he knows every bend from here to Nakusp by heart!
When we got home, I offered him some roast chicken, but he turned his nose up at it, so I just walked back to the kitchen, not wanting to push it… the next thing I knew, the super-champ was hopping towards me, as if to say, "Hey, I just realized I am famished Mum, get that friggin chicken back here!" I had to run back over there and turn him back around, to settle him back down.
I brought him back about 1/2 a cup of chicken with his two pills, he gobbled the chicken down and I mixed the pills in the chicken juice and shoved the one capsule down his throat very quickly. Meanwhile I am telling Paul to hurry up and get more chicken, this boy is famished! By the time Paul got over to us, he had gobbled the Tylenol 3 down, like it was a candy! That's the trick! Ha!
After another half a cup of chicken was gobbled down, he had a small drink of water. I was very happy to get that kind of response from him, so shortly after his surgery! 24hrs has already gone by! Only 312 hours to go until he should be feeling like a normal Tripawds again! He had a really good rest after that!
So it was about 4:30pm, when Paul & I stepped outside, to go and water the gardens and my flowers. When I came back in which wasn't more than 5 minutes, our boy was standing at the door, like he always has, wanting to join us out there! (Paul forgot to put the gate up.) Talk about me almost having a heart attack! That's all we bloody need, is for him to fall on his surgical side! But we brought him outside to have a pee. He was exhausted after that. He slept pretty hard for a few hours.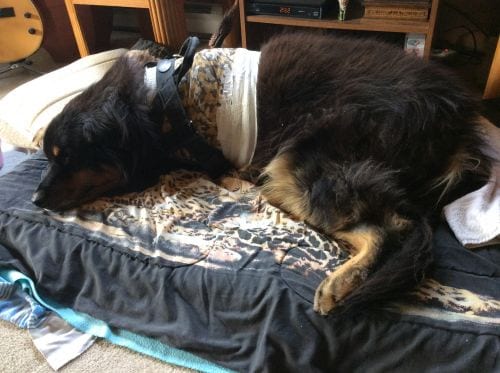 He has told us a couple of times that he has needed to go pee, so Paul & I are switching off taking him out. I said to Paul that we were going to have beefed up arms over the next little while, but our backs are going to be screwed!
So for supper Mr. Stewie had a BBQ steak, which Daddy had picked up especially for our boy! (5 of them actually) & pepperoni for dessert! He will get some more chicken as a bed time snack, to get his meds in him, so that we can dose him up for a good nights rest. (Hopefully!)
He is panting constantly and the occasional whimper. I'm going to sleep beside my boy in the living room tonight and probably for the next few nights, just in case he needs us. I'm terrified of him falling onto his side!
We are discovering that our heavy weight Champion, hops faster than I can can keep up. We'll be running a bloody marathon together by the time we're done! We'd do just about anything to get our boy through this though.
I can't even think about complaining when I've watched what my boy has gone through, with barely a whimper! My brave proud boy! I keep telling him that we are NEVER going to leave him behind. His pack will wait for him to catch up ALWAYS!
Wishing everyone the best.
Super Stewie, Petra, Paul, Spike, Chester & Miss Lily. 🐾🐾🐾🐾