Much Gratitude From Super Stu!
Stewie is now 4 months past his amputation and we are finished with any further major treatments.
Stewie's entire Nakusp Veterinary Clinic Team; Dr. Bill Sones, Dr. Laurie Page, Jackie and Lori have had Stewie's best interests at heart from the get go! They have ensured that the clinic has always been ready for our boy and have treated him so incredibly well! Even though Stewie may have grumbled a few times, he allowed them to do their job and that is a huge compliment to their skills and caring attitudes!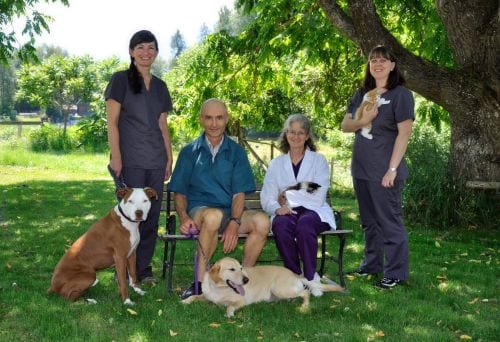 We couldn't be more grateful to our veterinarian team! From the very beginning of this journey, they have shown compassion, patience, perseverance and a whole lot of lovin' for our Stewie boy!
Stewie has been a massive challenge for our small town vet clinic and they have overcome them all! Starting with a large, VERY FLUFFY dog that needed to be shaved, then an irritating Seroma, followed by multiple vein issues when trying to take blood, delays in chemo medicine delivery and through it all they kept pawsitive and moved things forward in way that Paul and I were always comfortable with.
We are so very grateful to them for giving us this extra time with our boy! Every day that we get to spend with our super hoppy boy is a true gift, but not just that, he's a true inspiration! He doesn't look at life and say "I don't think I can do that." He looks and says "okay, let's do it! I got this!" It's hard to have a bad day with Stewie in our lives!
So a huge THANK YOU to everyone at The Nakusp Vet Clinic for working so hard getting Stewie to where he is today!!! We couldn't be Hoppier!
Stewie would also like to thank all of his Tripawd friends for always being there, through our moments of Aaack attacks and our hours of joy!
With much gratitude! ❤❤❤
Stewie, Petra, Paul, Spike, Chester & Miss Lily.