Super Stu's 5 Month Ampuversary!
Hi folks, Stewie here again!
Here I am celebrating my 5 Month Ampuversary, well 5 months and 5 daze to be exact, and I swear, I've never been hoppier! (sorry I'm a bit late getting around to it… Mum is always doing something on her iPawd! Sheesh! What's a dawg to do to get some attention around this nuthouse!)
It's been an eventful busy month, but Christmas is coming and I know that Mum has a hidden stash of mine somewhere, I can smell it!!! Maybe a new Hedgie?!!! I'll letcha all know!
I got to go to our annual Remembrance Day service with my Mum & Dad and I got to sing some old war songs with lots of other people… once again, I was the star! I didn't mean to take away from the importance of the people that have fought for our countries, but maybe I was a good distraction from any sadness.
One of the most exciting things that happened this month was when my Mum & Dad recorded another music CD! A really nice guy named Jordan, came to our home for 5 daze and I watched my pawrents sing their hearts out for hours and hours and hours!
I watched every minute of it, 'cause I got lots of loving from Jordan. We even got to go outside at midnight so that Mum & Dad's heads could be recorded for a video that will be put up on Much Music! It's going to be groovin' dudes!
Jordan was going to get some family pictures, but unfortunately we ran out of time. That's okay though, 'cause Mum takes Lots if pictures of me ALL the time! (it's actually hard for a guy to have a snooze around here!!!
I spent two relaxing sessions with Miss Leslie this month. She treated me with acoooopuncture which helps to wage war against those icky 💩C cells and my Ortho-Bionomy, which feels really weird at the time, but soooo good afterwards! Miss Leslie has really tasty treats for me afterwards too! Mum says those kind aren't very good for me, but how bad can they really be, when the taste so yummy!?!
And you'd never guess what…? Mum came with me to my last treatment and had the same thing done on her! Of course she gets to lie up on the comfy table, I only get the hard floor. She gets real tiny needles in her, where I thankfully get the red pen looking thing that they call a lazer! Cool heh?!? She gets like an hours worth of Ortho treatment , where I only get a sucky 20! But Miss Leslie made up for it when I got the run of her office! I got to slobber over this patient guy, who said "He's only got 3 legs!?" Sheeesh, you'd think that was obvious heh! And then he made fun of my scraggy tail! I wanted to nip at his ankles for that! I mean, it's not my fault that someone shaved my tail off entirely years ago. I'm just lucky that it grew back or I'd be a Tail-less, paw-less Tripawd!!! I forgave the patient man 'cause he gave me one of those yummy treats!
I really don't mind that Mum gets a little better treatment, she is in a lot of Pain lately and Dad and I can only do so much for her! She says it's nothing that she can't handle, so we're not to worry!
On the downer side….I had an accidental accident and I got confined to my living room for two weeks, 'cuz I hurt my leg and neck when having a hoppy time at my bestest friends house! It felt really, really bad and I had to be put back on bedrest and have those nasty tasting medz! The only reason my Mum gets away with this stuff is because she gave me lots of extra tasty treats to make it all okay! After making me stay on my bedrest for two hole weeks! I was back to my normal hoppy, Hedgie loving self!
Mum now has me booked every week for my special acooooopuncture and Ortho-Bionomy treatments, so that we can stay on top of my hoppiness! Both of us get a spa day together! I think her neck issues are just to make me feel like I'm not alone!!!
Unpawtunately my pawrents missed their annual Christmas trip to see their family because they were so worried about me. I kinda feel bad about it, but I kinda don't, 'cause I don't get to go with them on such a long busy trip and would have to stay with my favourite person, Anne. Now don't get me wrong I Ruv staying with her, but I Ruv my Mum & Dad more!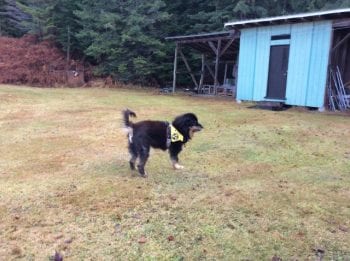 My Mum is a volunteer for a local group call P.A.L.S. (Protecting Animal Life Society) and she had fun working at the Annual Christmas Fair. She got me a big ring of dog biscuits… I also know that it is supposed to surprise me on Christmas morning, but my nose… oh my wonderful nose! The only reason I havent snuck a nibble is cause she keeps them in her bedroom and only the catsssss are allowed in there. I'll be really mad if they nibble on my treats before I do!
Another thing my mum did this month for P.A.L.S. was to assist in the trapping & transportation of a stray cat to and from the vets for nootering. (poor fella, I totally sympathize! It doesn't matter the species it's about the principle and the pain!!) She had also organized for the Foster family, so when she got a call from said Foster family telling her that the cat was first trapped in the wall and then not to worry 'cuz said cat had fallen through the ceiling, she and Dad made the immediate decision to bring the said cat home to our house!!!
Me and my Pack are slowly getting to know this very big fella. Mum & Dad call him Ted. He has paws the size of a Panda Bears so Mum calls him TeddyBear. Mum calls him a Foster, but she has said that he will more than likely be a failed Foster and I think my Mum is okay with that, even though she said that there would be absolutely no more cats in the house after Miss Lily, but this fella has a really big purrsonality and she said she can't ignore him!
Now, I know I moved into a mad cattery when I found my furever family almost 3 years ago, but there was only 2 catsssss in the house… now there are 4! Count them you guys… Spitfire Spikey, Chester Molester, Prissy Miss Lily & now Foster Ted! I don't even know if Ted likes me… he runs to his safe place when I hop on by! But I peaked around the corner last night when he was lovin' my Mum & Dad and I have to admit, he's a pretty Cool McCool!
We've had a couple of snowfalls this month, but nothing too serious, my Mum says it might not be a very white Christmas this year, but we still managed to get our 🎄 tree up in time!
I'm sorry once again that my Ampuversary blog is late, but I didn't think any of you would mind.
WISHING YOU ALL A VERY HOPPY CHRISTMAS AND BEST WISHES FOR 2018!!!❤
Rots Of Ruv From Stewie and his Prideful Pack ❤