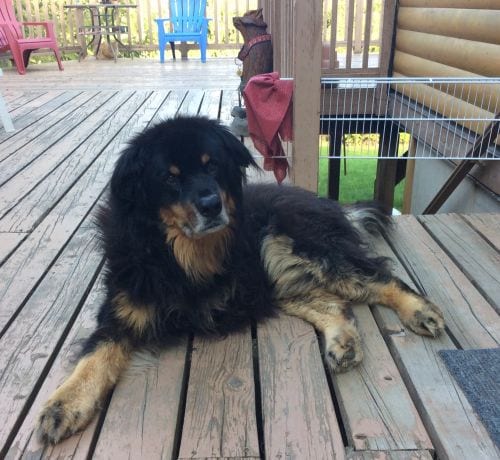 Oh you guys! Here I am celebrating my 11 Month Ampuversary and what a month it has been!! 
My mum and Dad went and performed at Christina Lake at the beginning of the month, so of course I got to stay with my favourite person, but I was kinda wurried fur them, 'cause there was lots of flooding going on down there… but they were okay, 'cause they climbed high onto this Railway Trestle, but then Mum had to save Dad from falling off!!!
My special spa daze have been cut back and I don't mind 'cuz Miss Leslie and Mum agreed that I didn't need to come in as often. Only when I seem uncomfortable and that has been a non-issue this last month. I have been feeling like a Super Hoppy Stu Butt! Kind of like the Super Kitty Hero behind me!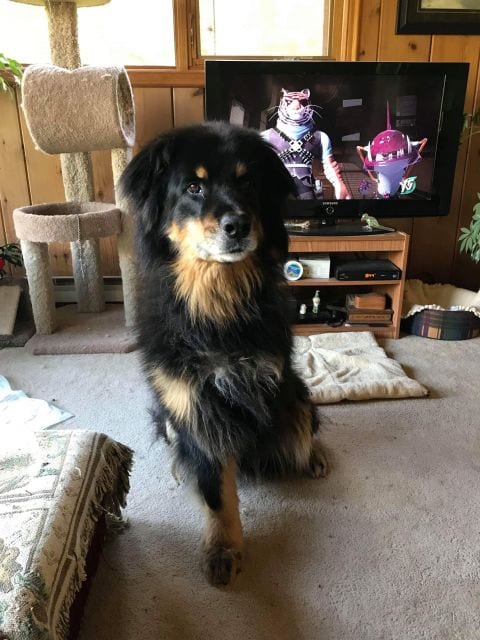 We had a surprise visit from my Mum's Sister (my Aunty) and her daughter (my cousin) and her daughter (my 2nd cousin), so we had 3 generations of my Mum's furmily here, she was sooooooo hoppy!!! Especially cause my cousin had never been here before! My (2nd) cousin Rylee and I are the very best of friends!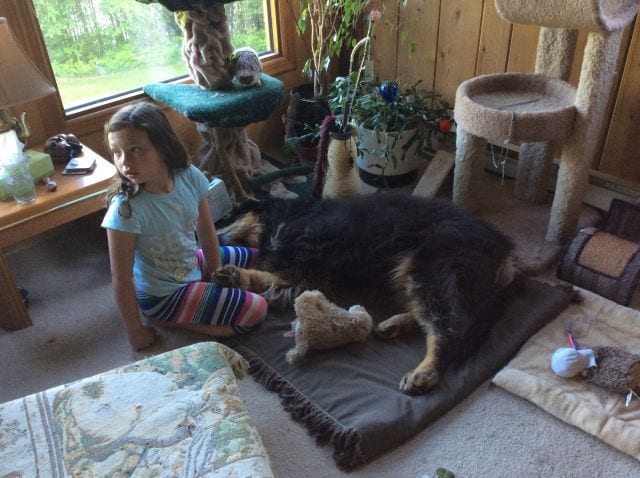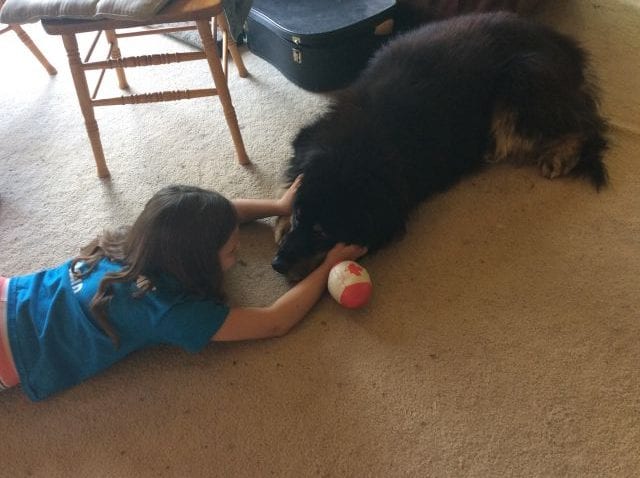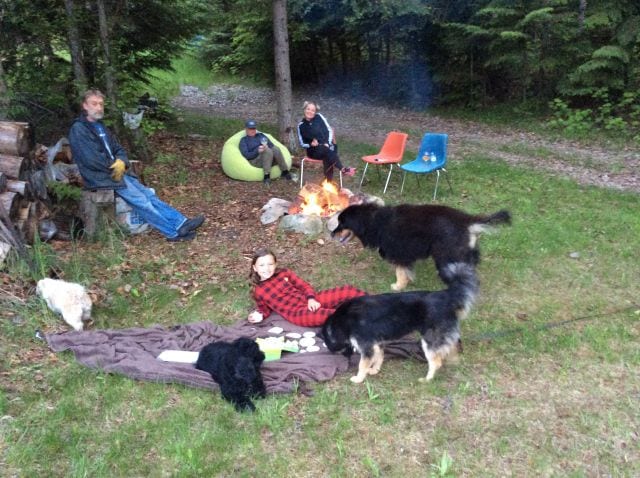 And she let me join in her tea ☕ Pawty! I Ruv her!!!
And here a picture of my Fur Cousins, Senorita Charlie, Wonderful Winnie and Troublesome (but truly loveable!) Pup Miss Daisy…
My Mum & Dad met my new vet, Dr Amber this month! Sadly, 'cause Spikey had a sore bottom, but with the initial introduction made with my Dr Laurie there, the second visit went really well! Mr Spikey really liked her! My Pawrents felt really good about her when they came home and told me what a nice lady she is and that she likes to give treats to win our hearts… I will reserve my judgment until I see what the quality of these said treats are!!!  In the meantime, I'll just lay here in the shade…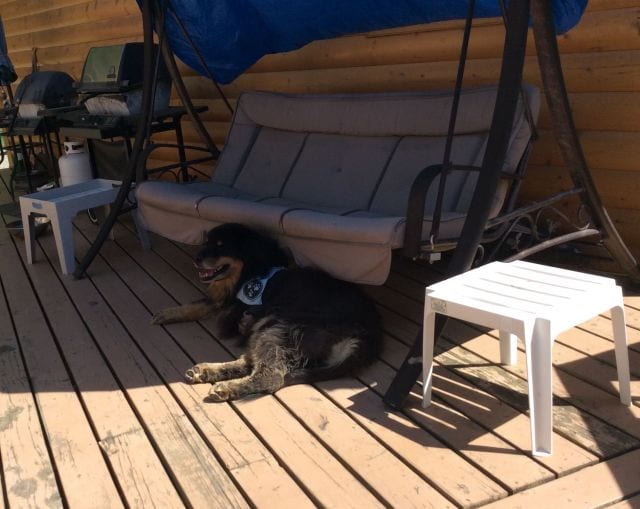 And then guess what you guys…. we had a visit from our famous TriPawd Stars Wyatt Ray Dawg and Miss Rene and Mr Jim!!!! 🎊👏🎊
They arrived at a really cool campsite in our area after a super long drive up from your United States Of Amurica! 🇺🇸!!
But first a Pawsitively cool (and extremely embarrassing!🤗) coincidence happened that day in town… 
The cool thing that happened was that when my Pawrents took me down to the Marina, where I like to take a drink, these nice people came up to say hello to me and Ruvved that I was a TriPawd Pup 'cause they had a TriPawd Kitty in their car with them!!! He had his own stroller and everything!!! Of course my Mum & Dad wanted to go and say hello!!!
So I got to meet Othello the TriPawd, Very Cool Kitty!!!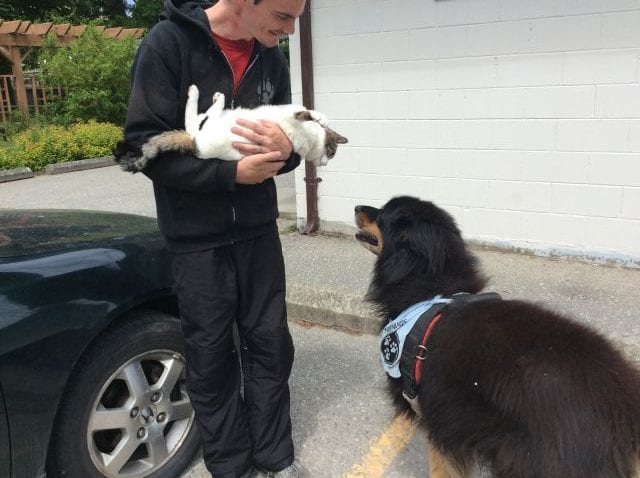 Now the embarrassing thing that happened was Mum shared with these very nice people that the Tripawd Stars were visiting and that they were going to meet with them at Tukaluk Campground that afternoon. They asked me if I thought that our Tripawd Super Stars would mind them dropping by and I said "of course they won't mind..!!!" Uuuuugh! You guys Wyatt Ray-Has-a-Lot-to-Say Dawg had a MAJOR problem with them dropping by!!! Mum is still apawlagizing, 🤗 as she had no idea that they would bring Tripawd Kitty Othello out of the car to say hello too!!! Wyatt Dawg nearly pulled Mr Jim through the walls of his Mobile Dawg House!!!
Of course Miss Rene handled the situation purrrfectly and everything had been calmed down after Othello and his pawrents left.
Then me and my Pawrents arrived….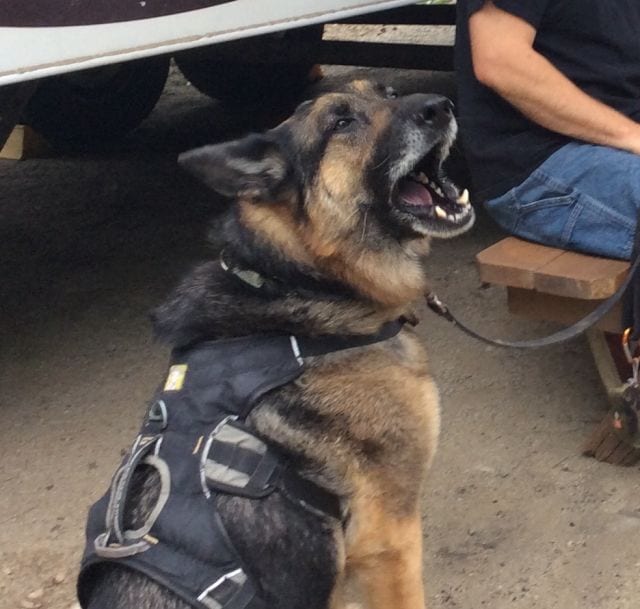 Now even though Wyatt Ray-Has-a-Lot-to-Say Dawg was a little concerned that I was close to his Pawrents, I showed him I was okay with him by going on a hoppy hop with him! Every now and again Wyatt Dawg would tell me to stay away from his den, so I just went and did my own thing where he couldn't see
Then the next day our Super TriPawd Stars came down to my house you guys! Yes they really did! They made a very special trip to come and see me and I couldn't feel more honoured! Truly! We had a great time showing them around. My Mum got to sit with Wyatt Ray-Has-a-Lot-to-Say Dawg in the back of our UTV while they went on a tour and I heard Wyatt Dawg calling up a storm, so I had to hop on over to them and make sure they were okay! Phew thankfully my Dad had it all under control and everypawdy was having a great time! It was MY turn to have a ride in the back with my Mum! (As they took me back to the house to "Rest!" they say! Uuuugh! I felt fine!!!) 
Here's some fun pictures of our Tripawd Super Star guests…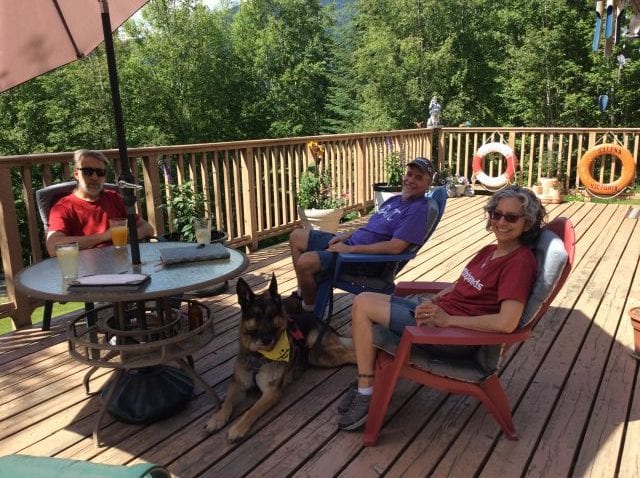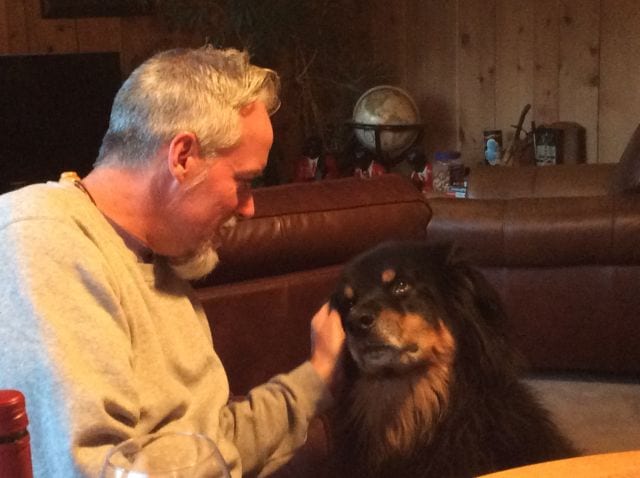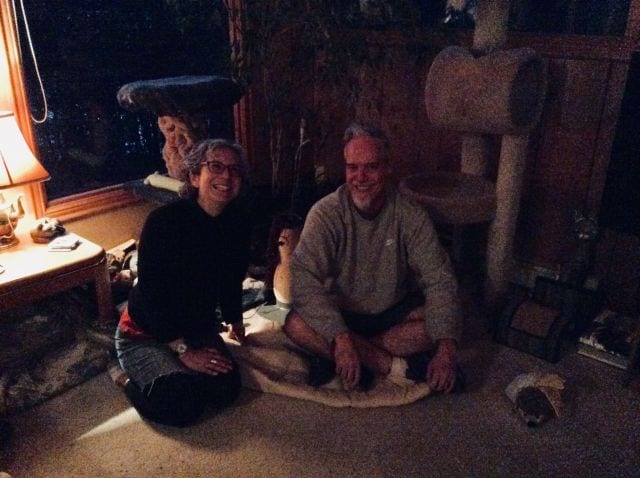 The very cool part about their trip to see us, is that Miss Rene asked Mum and Dad to make a song out of Mum's Tripawds poem, so Dad put her words all together in some music and came up with the TriPawds Theme Song! 
We will let Miss Rene, Mr Jim and Wyatt Ray-Has-a-Lot-to-Say Dawg show you that little treat… in the mean time they shared a 'Sneak 'a Peak' Of their time with us!
And talking of Treats, boy oh boy did we get spoiled Rawtten!!! I got two more Amurican Hedgies from Wyatt Dawg you guys! 
That makes Three Amurican Hedgie's that I have now!!! Thanks Wyatt Ray of Sunshine for cool gifts! My Kittens got a fluffy mouse each! You can only see three in this picture cuz Tedwardo keeps tossing them under the stove! Thank you! All of you guys are amazing! 😉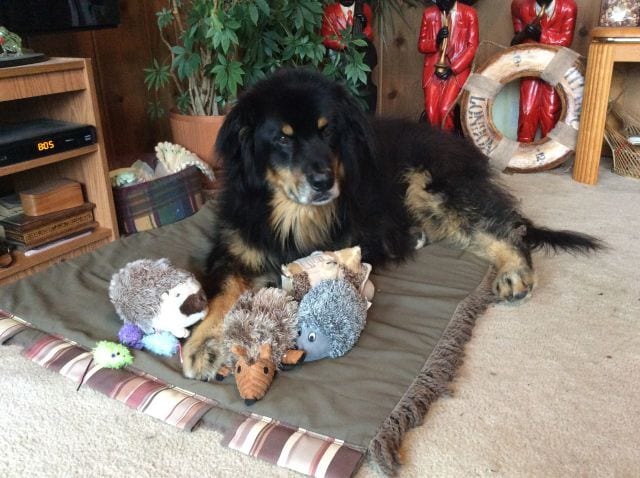 And my Mum and Dad got a really cool and very special bottle of 3 Legged Red! An extra special thank you for this!! We are very much looking forward to sharing this… 😉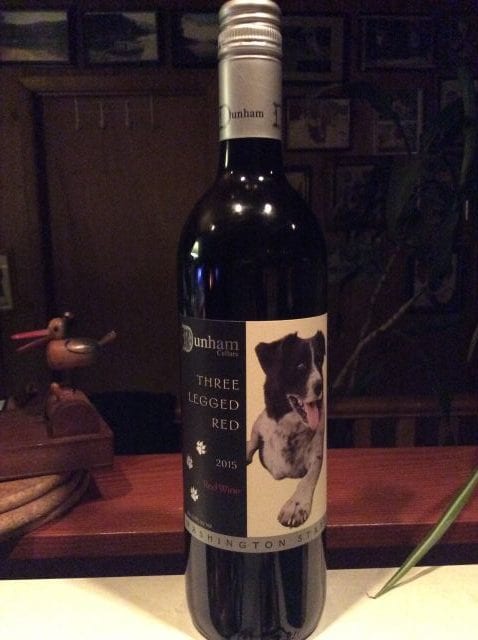 I got a new Hedgie fromMum and Dad for my Ampuversary gift! His name is Ranger Hedgie! I Ruv Ranger Hedgie!
I Ruv ALL my Hedgies
And you guys, i got my first Missy Hedgie!!!! Isn't she gorgeous??? Mr Purrrkins sent me another e-Hedgie and I Ruv her!! Thank you Mr Purrkins, you are so good on your compotes!! 😉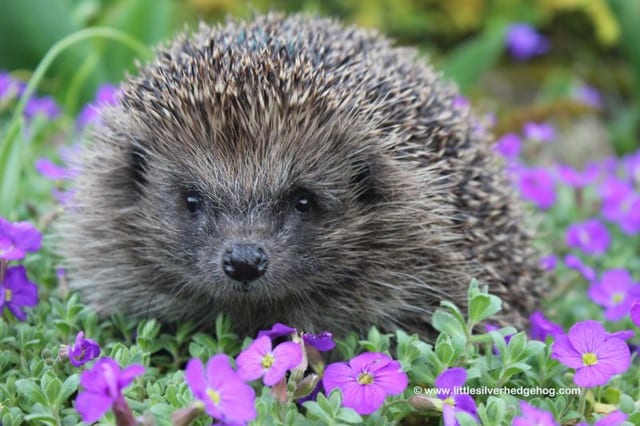 Oh and I got more pictures of My Pack Mum, wasn't she beautiful?? (She also was diagnosed with 💩 Osteo, but her pawrents couldn't give her the chance at becoming a Tripawd! 🙁 I have her same lips 👄! 😉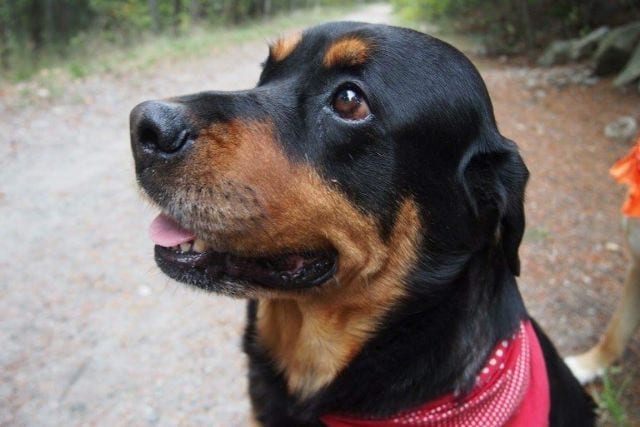 and me as a new born… I'm the cutest one in the middle with the sweet brown face and the cute little ears!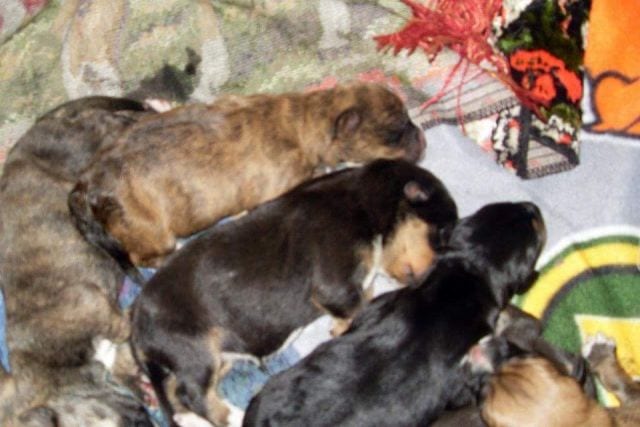 Miss Rene thinks that I might have some Leonberger in me 'cause my coat is so fluffy! I get to feel better about myself all the time!! I was told I had Rotty, Bernese and Retriever… clearly there is something else judging by the look of my Litter Pup Brothers!
I invite you all to my next Pawty next month… it's gonna be a big one… I'm celebrating my 1 year Ampuversary!!! Yes! That's one year my friends! Come join the fun! That includes Mr Purrrrkins 'cause he is celebrating his 2 year Ampuversary!!! So all you Catssss and Dawgs, come out with your Pawty Boots on, 'cause it's gonna be fun!!!
🎊🎗🐕🎗🐈🎗🎊
Rots Of Ruv and see you all soon!!!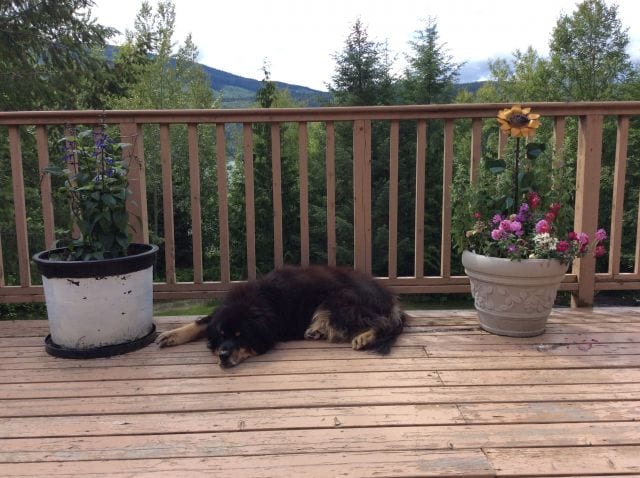 ♥️Stewie, Senor Spikey, Chester Molester, Prissy Miss Lily and Talkative Ted♥️
♥😽😽🎗🐕🎗😽😽♥
p.s. check out out much fun Wyatt had on the Tripawds Blog!