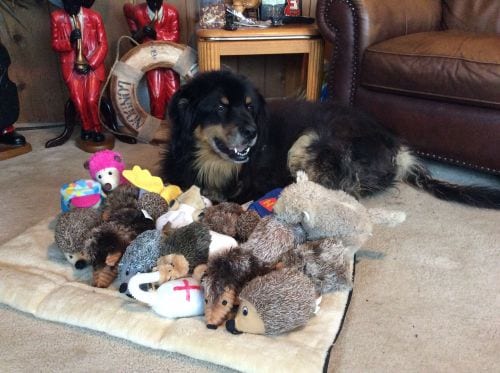 I told Stewie that I wanted to write his blog this month 'cause it is a really special one! If Stewie had been writing his blog though, it would have been out a week ago, but seen as how it is 'Mother' writing it this month, i am a bit behind…
We are all celebrating Stewie's 1st year Ampuversary and we feel truly blessed!!!
It was one year ago that we were still adjusting our brains to the prospect of putting Stewie through a massive surgery and wondering if we were all up to the task!?! Well, Stewie showed us all just how ready we were!!! He proved to be a true Champion as all Tripawds are, he pulled us through his recovery with all of the ups and downs that can be expected and within weeks proved that a Tripawd can thrive on 3!!
For the past year, we have prayed for his monthly Ampuversary to come around… now we are at his 1st year Milestone, i am praying for his 2nd & 3rd & 4th… 😉 I don't want to sound greedy, but that is my wish!
Due to the fact that the Allen Clan has been in a bit of an uproar lately, we didn't get to Pawty on Stewies' actual day, but i am going to put all the pictures together in another blog so that you can see what an incredible month he has had so far… okay, so it may take a few daze!😅
For now i am going to leave you with this video showing Stewies' incredible year up to now… I am still amazed at how far he has come and he continues to kick this 💩 disease in the Arse!! 
Much Ruvin from Super Stu and his adoring Furmily
Spitfire Spikey, Chester McFiend, Pretty Miss Lily and Talkative Ted
🎊♥🎗🛎🎗♥🎉
p.s. I want to add that I love that Sassy and Frankie join Stewie on his Tripawds calendar this month! 😉
p.p.s. Did you guys checkout the Tripawds.com song?