Hi guys,
As i sit here typing Stu's blog, i can't help but be amazed at the fact that it has been 14 months and 6 days since I started out on this journey worrying if a major amputation for Stewie was even fair to him! It was all of YOU that helped Paul and I realize that 14 months was even Pawssible…!!! 14 months of support and friendship and the reminder to us all to Be More In the Moment!! None of us know how long we have, but we know that we are being gifted with our time with our boy, with all our wishes out to the Universe to give us many more years to come! 
And now because my days are shorter with my furkids, I need to Be More With them in our Moments together! It has been a major adjustment for us all, as we have all gotten used to the fact that Mum is back at work and Dad gets to look after the needs of the Furkids all day… 😅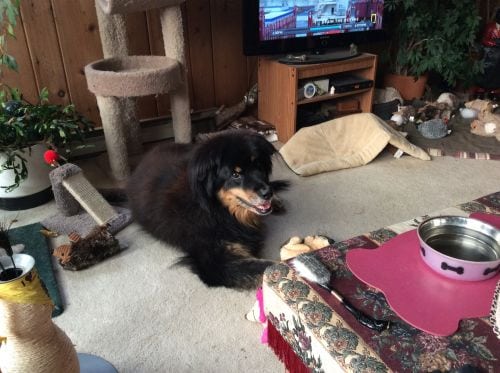 And i have to say that Dad has been doing an incredible job of tending to their needs and ensuring that i don't have to worry about them at all!! 
The Catssss have totally got Dad figured out!!! Chester is more of a Pester, Miss Lily is far more Prissy and I swear Ted has gotten Pigger!!! 
Spikey is looking like a true Spitfire… he gets a brushing from Dad everyday and he Ruvs it!!! Our old man is definitely beginning to show is old age 🙁  He is being managed for his pain in his old bones and is on a permanent antibiotic due to his bad teeth, but he still knows how to come up and pat Mum on the cheek for his midnight snacks!
Stewie Ruvs the fact that he and Dad are in charge and S'Mother is not around to say "No" to the extra treats and "watching us with her eagle eyes…"  Hehehe! I have to laugh because Stewie has got Dad wrapped around his massive paws 🐾! He barks at Paul when he wants/demands his treats and also when he is late for his meals!!
But the best part of all of our day i think, is when i am coming down the driveway after work and there's my boy Stewie hopping out to greet me! His tail is going like a helicopter and he has a grin from ear to fluffy ear! No matter what kind of day I've had, that grin ALWAYS makes me feel great!!
Now that i have rambled on, Stewie wants to say hello….
Hi Guys! 
I can't believe Mum stole my seat at my blog page again!!! Jeez! You know if it were up to me to write this blog, I wouldn't be late!!
Im feeling Pawsome you guys! I am getting tons of extra Ruvin these daze, especially when Mum comes home, i get Rots and Rots of Hugs and Smooches!!! She asks me how my day was and i tell her I Protected Dad and my Kittens super good and makin' sure those Bears and Deers don't scare my furmily and … well let's just say nothin' comes near the house that i don't tell Dad about!!
We had a visit from a few of Dad's mates this past month too… they showed up on the two wheeled contraptions.  They were amazed at how well I hopped around on 3!
Auntie Anne came down to visit us and I get so much ruvin' from her and she is super good at giving me treats!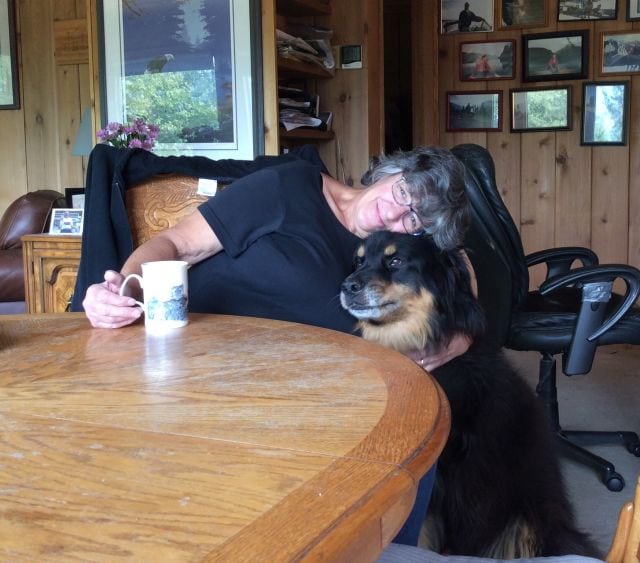 My Mum went searching for another Hedgie for me, but they have all left for the summer I think!! Or maybe the very Smokey daze just drove them away for a little while? I'd like to think that they will be back for my 15 Month Ampuversary! In the meantime, she found me a tiny sleeping teddy, but I'm not allowed to call him 'Teddy' cause she doesn't want me to be confused about which one I should "go get." So I just call him my Sleepy Squeaker! He is trying to hide under my paw 'cause he's kinda shy…;)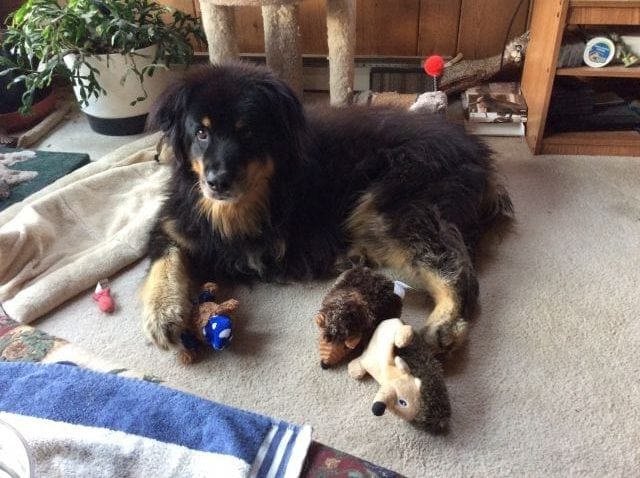 But that brings me to my Biggest SurPrize… i got a Monster Hedgie for my 14th month Ampuversary!!! He hid himself in this big box and when Mum opened it a Monster Hedgie was sticking his nose out at me!!!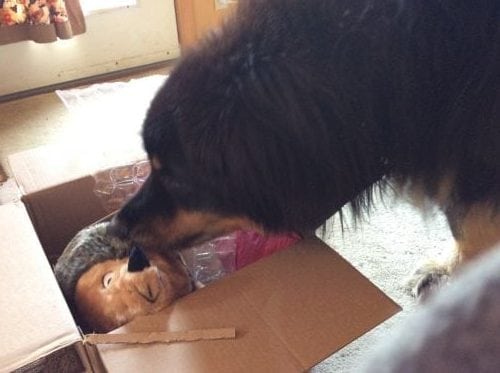 He honks and squeaks and he even rattles!!! He is one Cool Monster Hedgie! Many special thanks to my very special Fan Club!!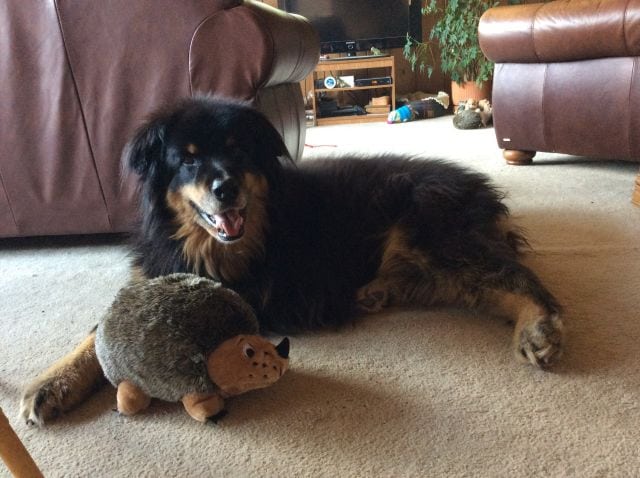 I Ruv my Hedgies and all the squeaking I can make them do! I still Ruv to play hide and seek and Monster Hedgie is a lot easier to find!
I am going to have to build another house for all of my Hedgies, but my Monster Hedgie needs a king size bed for sure!!
So until next time my TriPawdian Mates, i am hopping to get my Pupperoni with my Magic drops! I'm such a lucky fella!
Smooches to each and every one of you! My Pawty continues…
Rots Of Ruv from Super Duper Stu and his Feline Pride
♥️🦔♥️😽😽😽😽♥️🦔♥️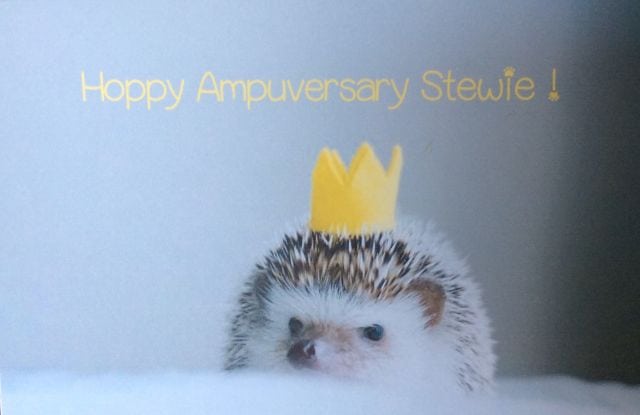 Thanks for the Ampuversary wishes Aunt Holly, Whispering Purrrkins, Smart Sexy Saxton and Mr Mark!! ♥️😽😽♥️