Hoppy Fall (hehe, no pun intended!) to my Tripawdian friends!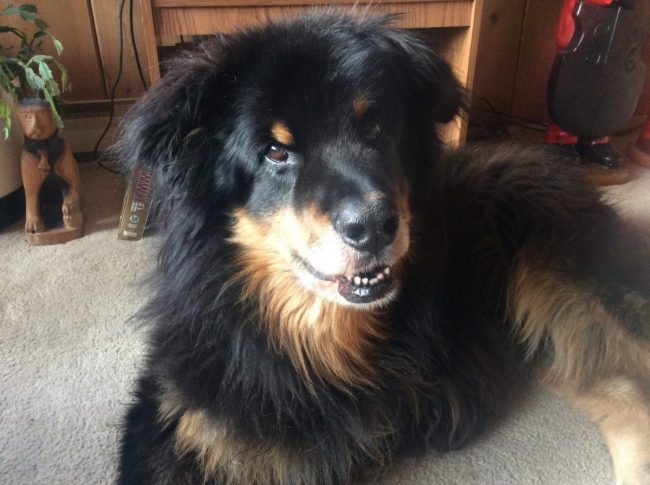 Super Stu here, still hopping hoppily along! I know it's been a few months since I saw you all last, but I am more than hoppy to tell you that life in the Kootenays is still as good as evah!! My Mum says to say that she is sorry for not getting me online sooner, but as usual, Life has taken over and that's not always a bad thing right!!
I want to start by thanking those of you who left heartwarming comments on my last blog. I bit Mum's ankle for being so rude and not replying to Michelle, Karen and Stacey!!! I'm so sorry for not replying to you! How very rude right!!! Please know that I read all of your lovely comments and I have to tell you that you all have a really bad habit of making me feel truly Ruvved!!!
Life has been treating me soooo well! My furmily lets me do what ever I want and I can tell you that I don't always want to do that much… I am getting older and lazier! I'm now 10 and a 1/2 years old and believe me when I tell you that my age is the only thing slowing me down, 'cause hopping around on 3 Paws has never been an issue!
I still love my truck rides, but I am just as keen to stay home and sleep too. Unfortunately our old Suburban got old and fell apart…literally! She was getting really old and we went on lots of adventures together, but she just couldn't do it anymore. I still really miss my old 'Burban!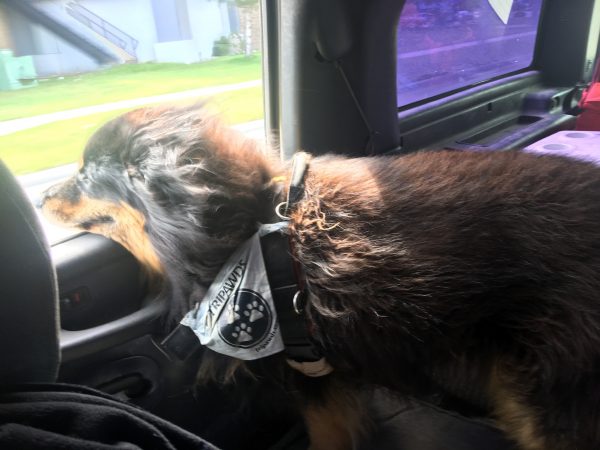 Dad got himself a new, (older) truck after the old 'Burban kicked the proverbial bucket and it's really cool, but I need a bit more help getting into it, so I don't really consider it to be MY truck yet! Mum told me that she is working on a ramp so that I can feel more confident about getting myself in and out. Maybe that is how I can get MY truck back!
One of the other downers to this past summer (other than the whole world going crazy!) is that I didn't get a ride on my Toaster! Poor old Toasty McBoaty broke her drive train and she needs to be sent to the repair vet! Plus we have had some really bad smokey daze up here with all of the tragic fires that are burning in your California's and all the other places too, so it's never a good idea to go boating in this weather.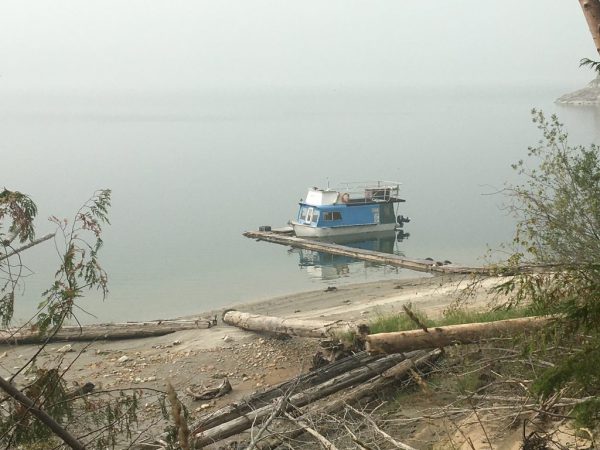 We all feel really bad for all of the hoomans that have lost their lives and their homes due to the fires, we only have to suffer with the smokey mountains! Our Prayers go out to everyone! 🙏
I do Ruv all of the attention that I get you guys! EveryPawdy wants to pet an old dawg on 3 legs!! Sometimes it takes hoomans a couple of minutes to realize that I am only hopping on 3 and they always act so shocked!! They all say the same thing…. "he's only got 3 legs!" Like I didn't already know right!! I try to act shocked too, just to make them feel a little better, but it just comes out like a big grin!!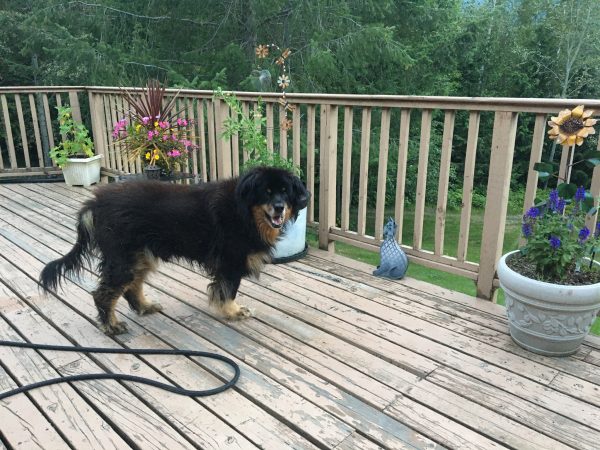 The other thing I've come to realize as a big old 3 pawed dawg, is that everypawdy wants to help! I get help when I need to hop up into my truck, I get a special bowl so that I don't have to bend over when I'm eating, I have special rugs all over my house so that I don't slip and the best part is when I get driven all over my property in the back of my UTV 'cause I can't hop too far anymore!! I Ruv my life!!
And do you know who doesn't come knocking on my door anymore…?? Those Phantom Limb Pain things!!!! I haven't seen or felt them in months and months now and I can tell you that I don't miss them one little bit!!!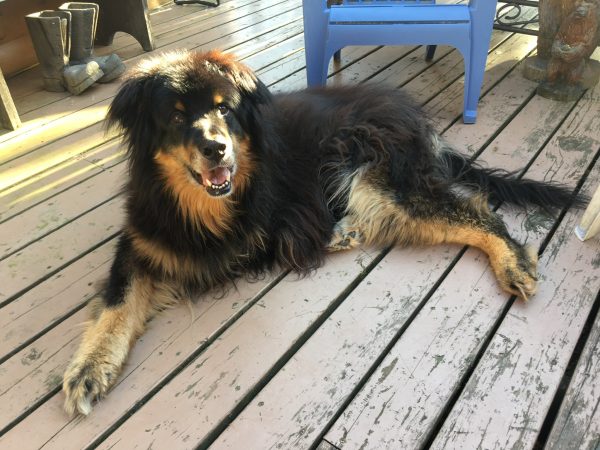 The most yummy part about my life on 3 is that since July 10th 2017, when I first had my leg and my horrid pain taken away, I have eaten 36 yummy Pupcakes! (but who's counting ;)! Oh and the gazillion stuffed Hedgies I have!!! I do believe that I have every species of Hedgie alive and some of them are even twins!! The twins below are Paternal twins folks, don't judge!!! 🦔🦔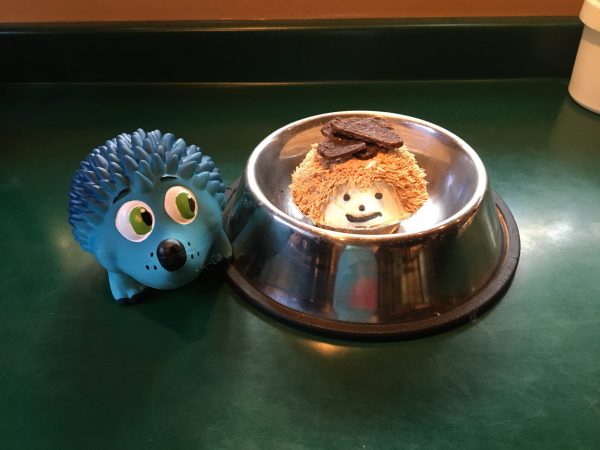 As most of you know, i have ruvved my Hedgies my whole life, but lately I have been telling Mum that they tire me out too much… I Ruv their company, don't get me wrong, I just can't keep up with them anymore! This is the down side to getting old!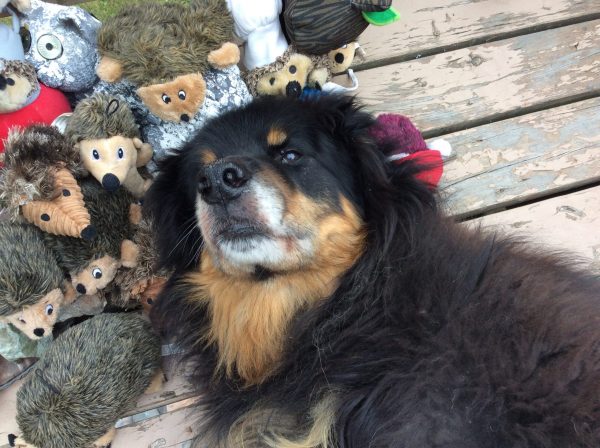 But I'm never too old to get my Pupcakes!! Check out my 3yr Ampuversary Pupcake you guys, it was hoooge and it lasted me all week!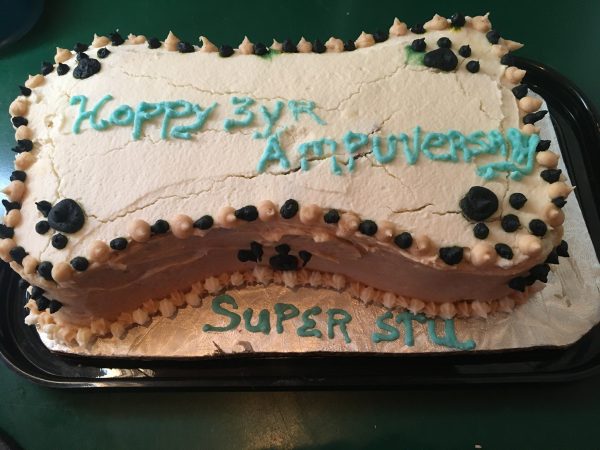 Mum set out all of my Hedgies that I have collected over the years, I'm very proud of my Band of Hoppy Hedgies!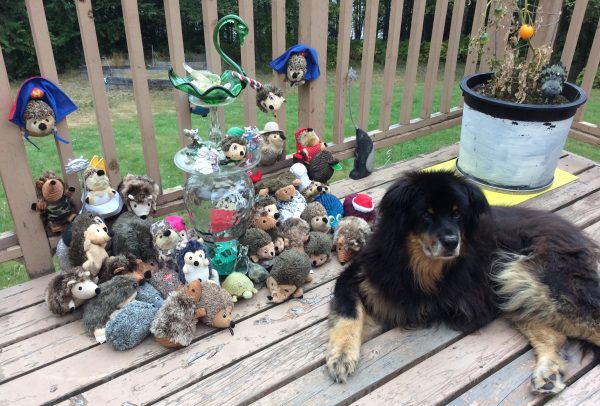 I tell you though, my kittens are my very best friends and my constant company, I Ruv them sooooo much! My oldest brother Spitfire Spikey is still plodding along at 21 & a 1/2 years old. He truly amazes us all! I tell you, he's going to live furever!!
My sidekick Chester is still a Pester. He gets grounded for wandering too far from home, so he sulks and says he is going to run away if he doesn't get his way!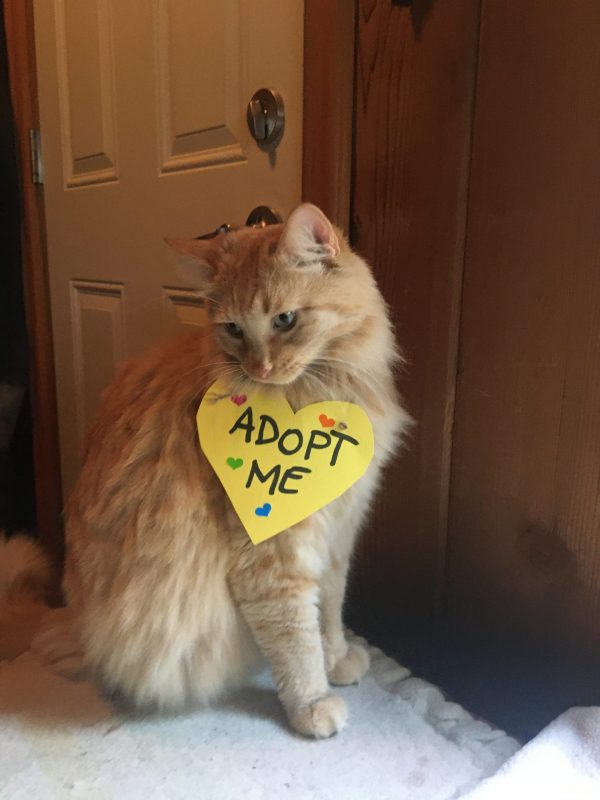 I told him i don't know where he is going to go??? NoPawdy else was going to spoil him as rawten as our pawrents do!!! He didn't disagree…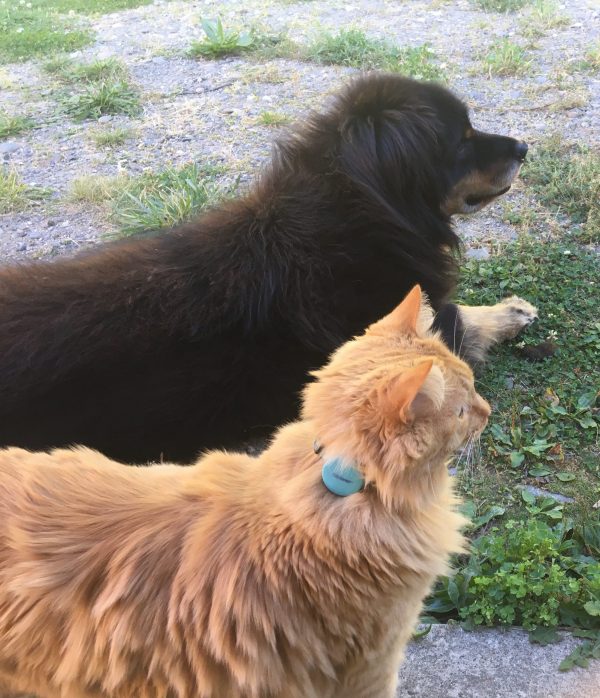 Talkative Ted is still a major Pigger, but at least he ALWAYS stays close to home!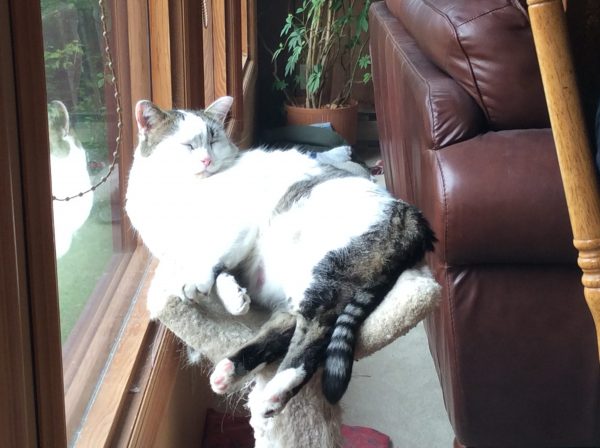 And our Pretty Miss Lily is still Prissy! She is always causing trouble with us boys and tells on us ALL the time!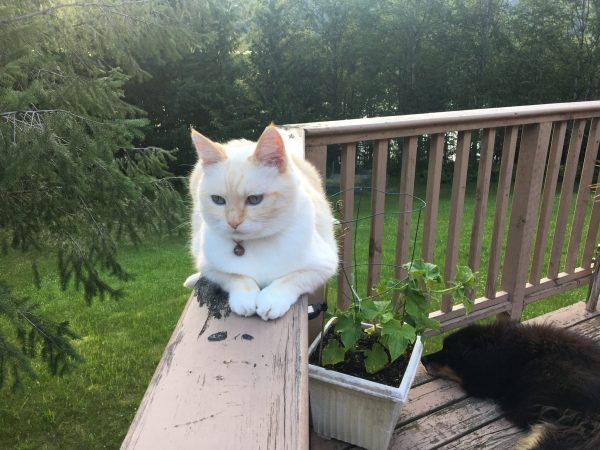 Mum and Dad are still singing together, but because there is this whole Pandemic thing going on, they haven't been able to get out and perform live for other hoomans. They have been staying close to home and having fun making moosic videos. I Ruv AllenSong's most recent video, 'cause it shows that even though we are in some pretty crazy times right now, all that matters is the LOVE that we all share together! ♥️🎶
Check out more of their videos on AllenSong's YouTube channel You'll love them, I promise!!
But before I sign off, I must tell  you… this Pupdate would have taken me another 100 Blooming years if it wasn't for some very special help behind the scenes… My blog page wasn't cooperating well and Mum needed to just keep trying to come back on and get it finished, but it just wasn't working out for her. So she got in touch with Miss Holly & Mr Purrrkins and after trying everything she could think of, she set me up with the tools to go and ask Jim/Admin/😎 for help on site… I really didn't want to trouble Mr Jim and Miss Rene, but honestly you guys, we would have been celebrating my 100th Ampuversary before you got any pupates to read! Major kudos to Mr Jim/Admin/😎 for performing his usual magic, working me through each step to get our blog working again 😉 Thank you so very much for your time Jim and Miss Holly!!!
So my lovely Tripawdian friends' I will say A'Hoy for now! I will try to get Mum to sign me in a little more often, even if its just a goofy picture and a hello… stay well, stay strong and remember that it is always better to hop on 3 than it is to limp on 4!!!
Much love and sloppy kisses to you all! ♥️👅♥️
Plus very special hugs to Miss Rene (and family), Mr Jim and darling Mr Wyatt-Has-A-Lot-T0-Say 💕 
Super Stu and his Purrrrfect Furmily
♥️😽😽👅😽😽♥️