Hi to all of my TriPawdian Friends!
I am soooo furrrry grateful to be writing my blog this month!!!
The month started out pretty much as normal, i was feeling really good and just being my hoppy self! Mum and Dad set up our Christmas tree! I Ruv my Christmas' with my furmily!!! Chessie loves our tree too!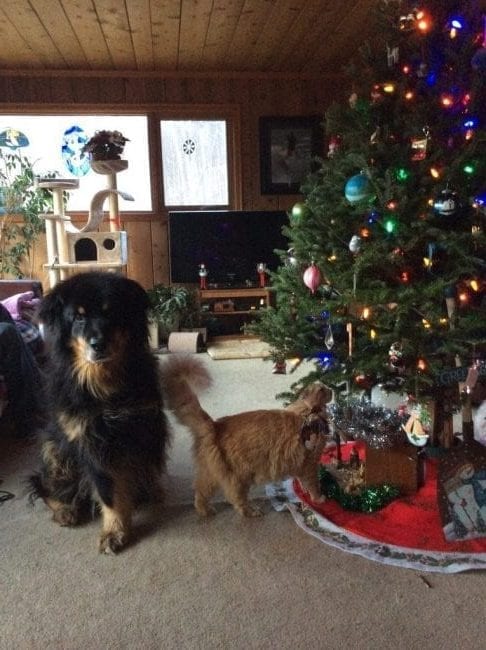 Then i got my funky neck thing happening again… Mum figured it might be because of the cold weather, so i got put back on my Gabapentin and Meloxicam and the boring bedrest place! Just when I seemed to be getting better, I would yelp out in pain again so Mum would try adding a T3 at night and hope that i would get better! But i wasn't getting any better, in fact the day before my 17 Month Ampuversary, i didn't want to move at all! I wasn't interested in eating or drinking or even getting up to go out and pee! I couldn't even get up and greet Mum at the door when she came home from work that day!!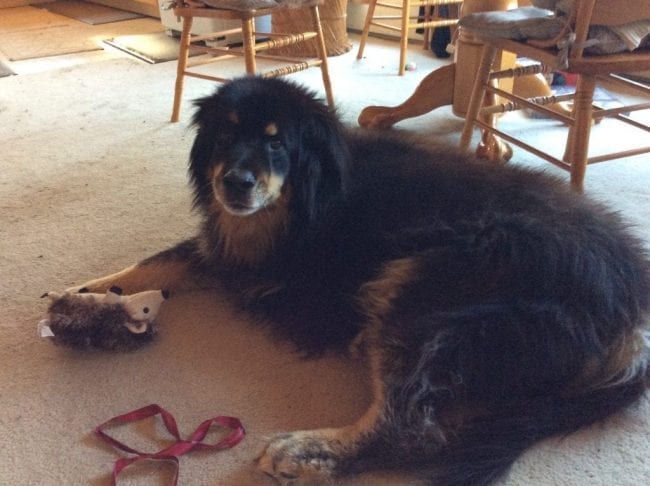 They took me to see our new Dr Amber for an evaluation and she was so very kind and she gave me lots and lots of treats and kitty food as a distraction, while she poked and prodded! The only thing i got growly about was when she sprayed that cold alcohol stuff on my newly shaved leg! I mean who does that!!! We ran my bloodwork and most of my numbers came back looking really good, but my creatinine is starting to crawl up. So the Meloxicam must be kept at a minimum, as that medication does mess with the Kidneys. Dr Amber said that i was being very brave and strong 'cause i didn't let out one yelp!! She couldn't find any sore spot on me!!! I'm too proud to show this stranger that I hurt!  I barely show Mum and Dad that I hurt, but Mum knows me better than that!
So right now I am buzzing happily along, I have been feeling pretty okay these past few days and Mum and Dad are super hopeful that I just out of alignment and may need to go to see Miss Leslie for my Ortho-Bionomy treatment.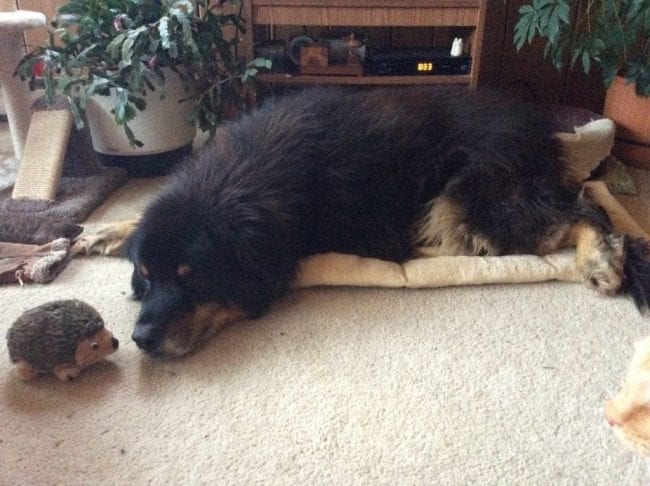 I gave Mum and Dad a big scare and Mum thought that we were all going to have to say goodbye to each other!!!! She even gave me my Christmas Hedgie to me early!!!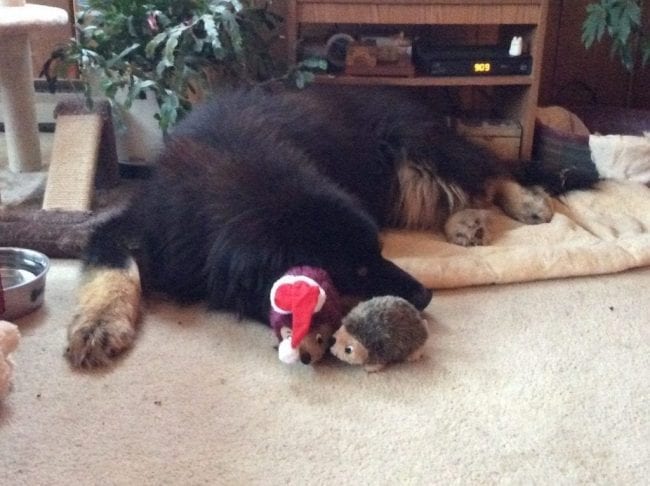 But not me, I wasn't ready to go!!! I was waiting for my Hedgie PupCake!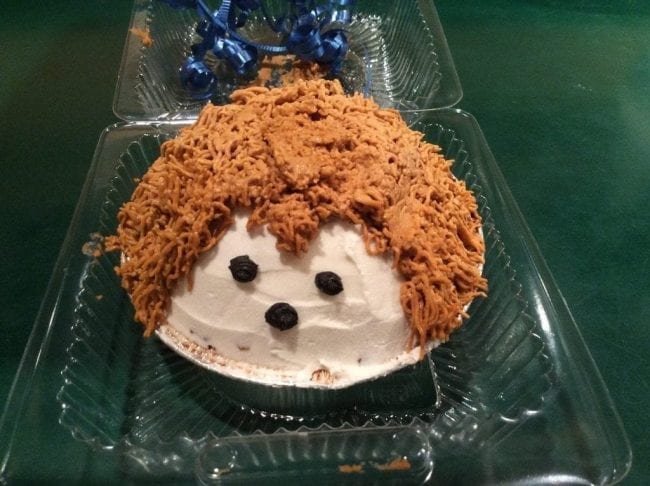 And boy oh boy did I enjoy gobbling that delicious treat down! I shared my cake with my Hedgie's but i told Teddy "No Way! You're on a very strict diet Bro!!"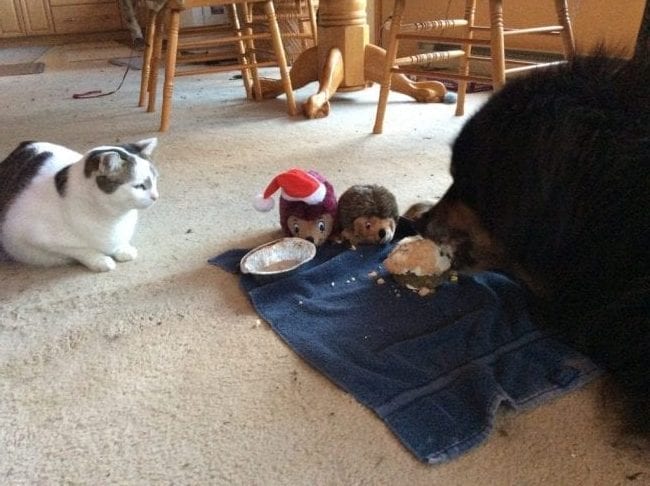 I told Mum that I am feeling pretty darn good right now, (a little doped up maybe) but I will let her know if I am not comfortable. She knows the signs! So now although I am slow and don't venture too far, i still get to celebrate Christmas with my Furmily!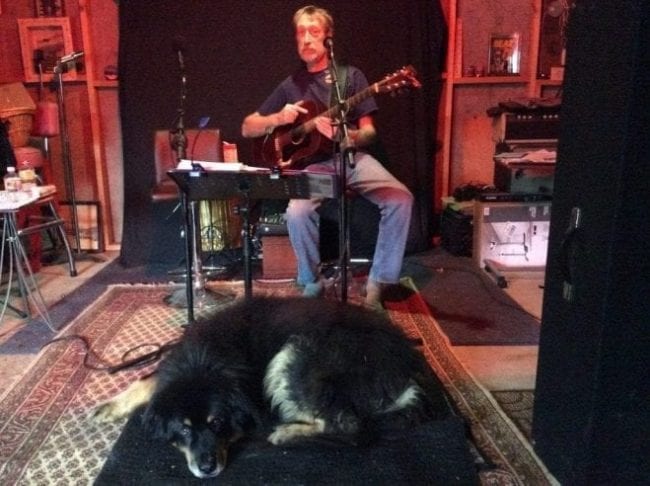 My TriPawds Calendar arrived and Mum sowed me my photo! I look pretty handsome don't I! And i get to share the page with my friends Freakin' Handsome Frankie, Merry Nurse Myrtle and Spirit Happy Hannah!! Too cool!
I'm truly grateful to be able to wish all of my TriPawdian friends a Very Hoppy Christmas and wishing you all good health and happiness in the new year!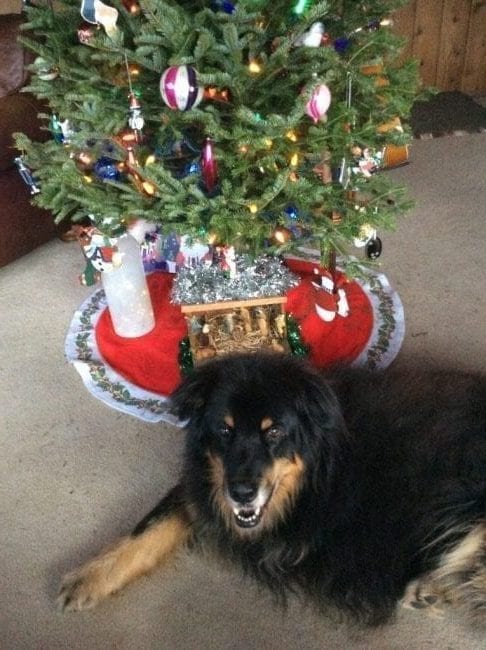 Rots of Ruv from Super Stewie and his very special Kittens, Spitfire Spikey, Chester McFluff, Pretty Miss Lily and Tedwardo!
Mum wanted to share a Hedgie giggle…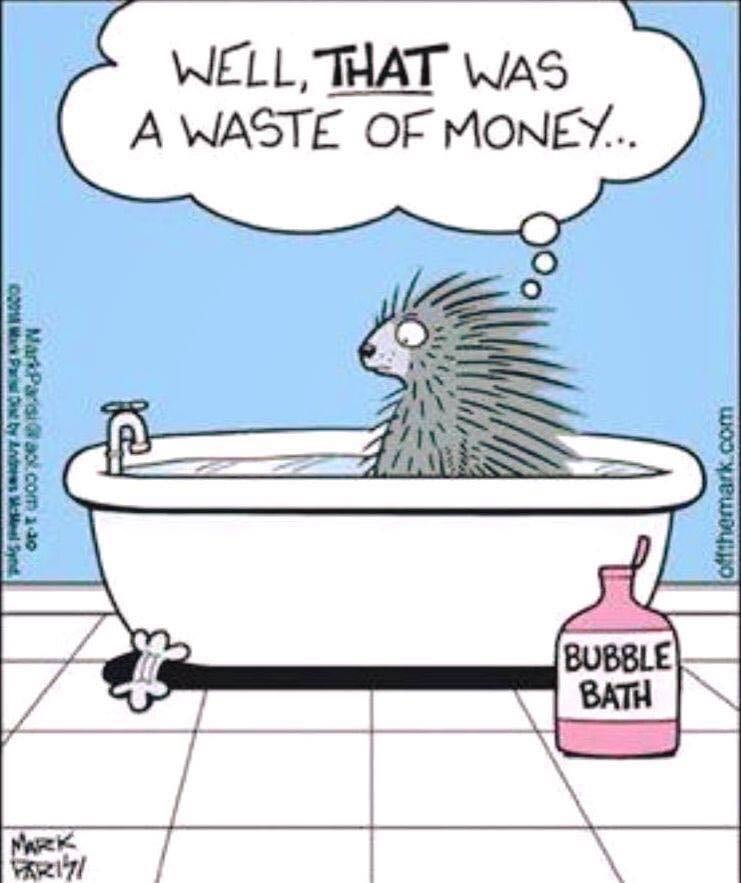 And thanks again to Miss Holly for my virtual Hedgie celebrations!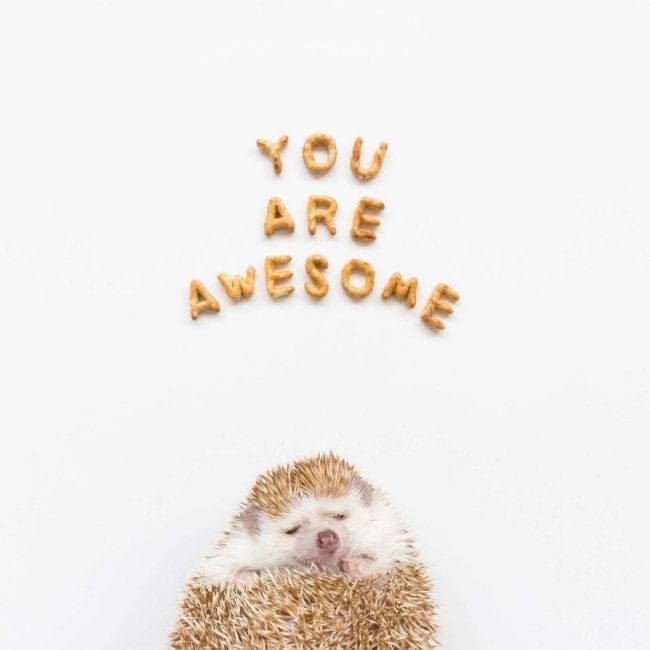 ♥️♥️♥️♥️♥️♥️♥️